AELTC announces series of contributions to aid recovery from the pandemic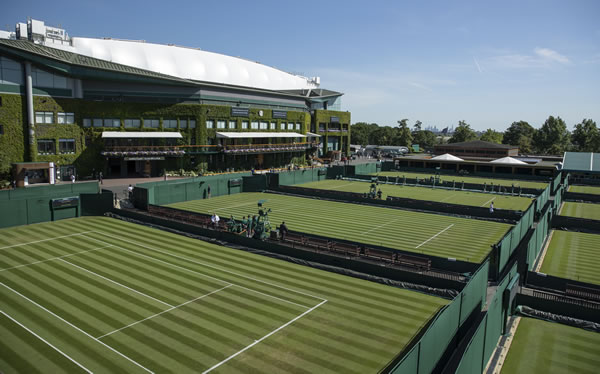 The All England Lawn Tennis Club has announced a series of contributions to support the recovery from the coronavirus pandemic, including supporting a number of initiatives in Wimbledon.
In making these contributions, the AELTC says it has brought together the Club, The Championships and the Wimbledon Foundation, combining the use of the organisation's facilities, resources and £1.2m of charitable giving to aid the COVID-19 response and recovery efforts across society.
Locally they have included:
• Support for society's most vulnerable people through the creation of a £1.2m fund by the Wimbledon Foundation, the charity of the AELTC and The Championships, providing:
o Donations to local charities and organisations in Merton and Wandsworth to address immediate needs, financial resilience and mental health support, including Merton & Wandsworth Foodbanks, Age UK Merton and Wandsworth, Merton Giving Coronavirus Fund and the London Communities Coronavirus Appeal.
o Donations to supporting homelessness charities operating in London at the forefront of the recovery including Merton Winter Night Shelter, SPEAR and Glass Door Homeless Charity.
o Support for the national response through a donation to the British Red Cross towards their work supporting people in vulnerable situations during the COVID-19 outbreak.
• The opening of an AELTC kitchen to deliver 200 daily hot meals for those in need in the local community in Merton and Wandsworth for the next three months. The meals will be distributed by City Harvest, with whom the AELTC has a longstanding partnership. Alongside donations of excess food for redistribution under its COVID-19 Emergency Appeal, the Wimbledon Foundation has also made a donation to the charity, which has provided over 1m meals during the lockdown to date.
• Donations of toiletries and left luggage items to local homelessness charities.
• Volunteering from AELTC staff to support within their local communities.
• A donation by the Wimbledon Foundation to NHS Charities Together COVID-19 Urgent Appeal.
• A donation by the Wimbledon Foundation to St George's Hospital Charity to support its COVID-19 response.
• Donations of toiletries and care bags to St George's Hospital and Kingston Hospital.
• Donations to the London Ambulance Service and Parkside Hospital in Wimbledon of equipment no longer needed for The Championships, including face masks, PPE and tensa barriers, and access to parking and toilet facilities as a rest stop for local crews.
Ian Hewitt, AELTC Chairman, commented: "As we navigate a year without a Championships, our highest priority continues to be the health and wellbeing of all those who make Wimbledon happen and those for whom this pandemic has caused suffering and loss.
"We strongly believe that Wimbledon has the responsibility and the capacity to act as a force for good, using our resources to help those in need, particularly in a crisis such as this.
"We have worked hard to develop a wide-ranging series of measures to provide the help that we can to those in our local and regional communities who are most affected as we begin the period of recovery, which we recognise is going to continue to cause hardship for many for some time.
"We continue to be humbled by the passion shown for Wimbledon by fans all around the world since our cancellation announcement, and we look forward to a time when we will be able to come together again."
The 134th Championships will be staged from 28 June to 11 July 2021.
May 20, 2020