Fun for all ages as infamous family visits New Wimbledon Theatre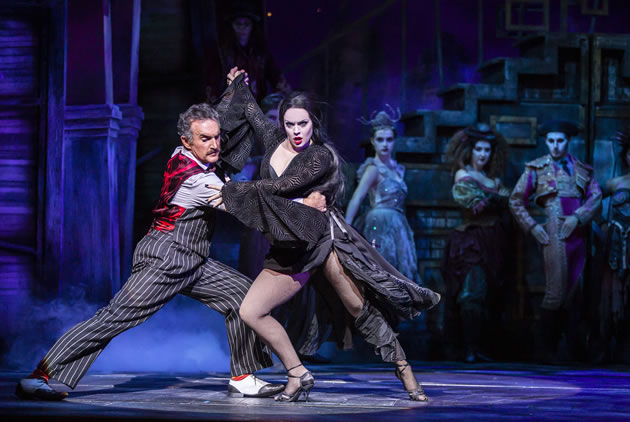 Joanne Clifton and Cameron Blakely dance the tango together
Forget the dismal February weather by taking the family to New Wimbledon Theatre for a perfect half-term tonic with The Addams Family musical.
This show has something to offer all ages as we take a glimpse into the crazy world of The Addams Family, headed by Gomez and his wife Morticia.
The story is quite straight forward - their goth daughter Wednesday falls in love with Lucas, who is from a more 'normal' family. He brings his family along to the creepy Addams Family home in Central Park, New York, to enjoy dinner.
The cast of kooky characters each plays their part in causing chaos after Lucas's parents Mal and Alice arrive at the door. The atmospheric set has already transported the near capacity audience into a darker world than their SW19 environs.
As the story unfolds, there is something for everyone to enjoy. It almost reminded me of a pantomime in places as there were quite a few instances of adult humour that flew over the heads of the younger members of the audience.
But many of the youngsters (and oldsters too) were in stitches at the pranks, including the torturing of Wednesday's brother Pugsley. Indeed he is so worried he'll miss out on his regular torturing at the hands of Wednesday that he hatches a plan with his witch-like grannie to split up the young couple.
However his wicked plot goes wrong and, to much belly-laughing from the audience, straight-laced Alice ends up dancing on the table and telling the truth - "Full Disclosure", as the most memorable song from the show goes - about her relationship with husband Mal.
I have to say that the songs were not the elements of the show that remained with me as I stepped back into the February drizzle after the standing ovation. Cameron Blakely as Gomez and former Strictly Come Dancing champion Joanne Clifton were the standout performers, with their tango together (pictured above) a particular highlight. It was a shame there wasn't more opportunity for their dancing talents to shine.
Kingsley Morton as Wednesday has a powerful singing voice and gave a convincing performance as someone who could enjoy both love and hate. As you can imagine, the show has a happy ending for Wednesday.
One of the side plots includes Uncle Fester falling in love with the moon, and here Scott Paige demonstrated he was another performer with a fantastic singing voice and a real stage presence.
Gargantuan butler Lurch, played by Dickon Gough, is mostly voiceless. But, with spot-on timing, his deep grunts were a regular cue for more audience laughter. He also looked just the part and played the role with a real sense of drama.
There's a total cast of 18, and all were clad in amazing costumes, with some reminding us of the Spanish origins of the Addams Family. It helped make the show a true feast for the eyes, and there was never a dull moment.
Listings information:
Tue 15 Feb - Sat 19 Feb
93 The Broadway, Wimbledon, London SW19 1QG
2 hours 30 minutes incl. interval
Tue - Sat at 19:30
Thu and Sat at 14:30
The Addams Family tickets link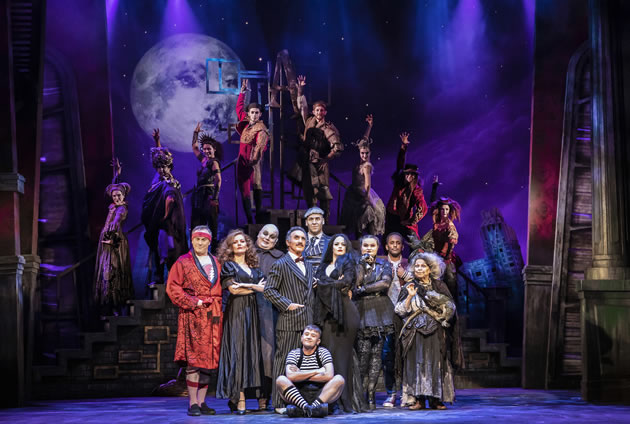 By Sue Choularton
February 16, 2022