Council orders Plough Lane garage to replace each tree it axed
A remaining tree stump. Pic courtesy of Cllr Ed Gretton
A Wimbledon car dealership has issued "profuse apologies" for felling 11 mature trees on its forecourt, despite the site being in a Conservation Area.
The trees, thought to be 30 years old, were a landmark surrounding the forecourt of the TrustFord dealership on busy Plough Lane.
The garage, which was recently acquired by TrustFord, said last week it took the "difficult decision" to remove the trees to improve safety, visibility and access for visitors including transporter vehicle deliveries.
In a later statement, it said it had checked if there were any Tree Preservation Orders in place, but said there were none.
However, regulations state you have to give your local planning authority six weeks' notice before carrying out work on trees which are located in a conservation area but are not yet the subject of a tree preservation order
And, following the intervention of Wimbledon Park Councillor Ed Gretton, Merton Council confirmed there had been a breach of planning rules and has said TrustFord must replace each of the felled trees with a semi-mature tree.
TrustFord said in its latest statement: "We got it wrong and for that we apologise profusely. The health and safety issues around vehicle transporters now delivering directly to the site prompted us to make the decision to remove some of the trees. Prior to this we had checked the position regarding any preservation orders and there were none.
"It was never our intention to cause so much upset, we genuinely care about the environment and will do what we can to fix our mistake."
Martin Whelton, Cabinet Member responsible for planning enforcement, said: "I was appalled to see the serious breach of planning rules which has resulted in a number of trees being felled without our authorisation at the Ford Garage on Plough Lane.
"Our residents like trees. They increase our bio-diversity, and can help to tackle some air pollution. That's why we're committed to maintaining and expanding the amount of greenery in our borough. As such, the council has taken immediate action to rectify this situation.
"We have insisted that Ford replace each of the felled trees with new semi-mature trees, plant additional trees along the nearby riverside, work with our schools on environmental projects, and give a significant financial contribution to local community allotments.
"In the interest of value for the taxpayer, we do not want to resort to legal action, so we're pleased that Ford is swiftly making good on the destruction it has caused, but we do not rule out further action.
"Environmental damage like this will not be tolerated. Our message to any local business or resident who is considering a breach of planning rules is that they will find there is a very high price to pay."
TrustFord made the following pledges when it issued its apology:
• We will replant trees and shrubs around the site
• We will invest in the wildlife project by the river at Copper Mill
• We will engage with local schools to tell us about their green projects and we will help
• We will give all children in local Merton schools seeds to plant wherever they wish
• We will donate £5,000 to the community allotments project to fund new planting of herbs and vegetables
• We will, in 2022 to celebrate Her Majesty the Queen's Jubilee, invite our Princes Trust apprentices to plant a tree at every one of our 60 sites across the UK.
The familiar line of trees as they were on the edge of the forecourt. From Google Streetview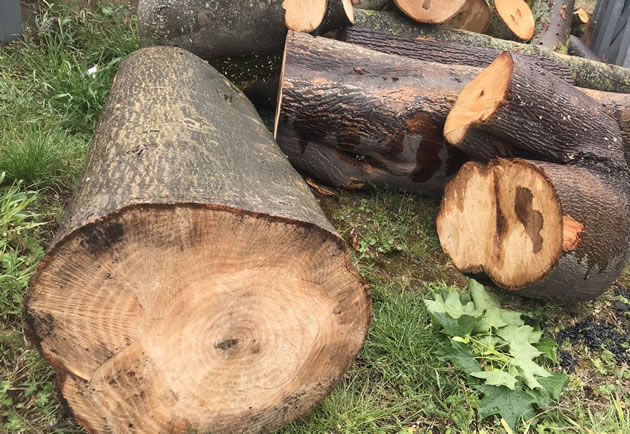 Some of the felled trees. Picture courtesy of Cllr Ed Gretton
The Wandle Valley campaign group was among those who pointed out that the dealership falls within a Conservation Area where notice is required for works to trees that have a trunk diameter of more than 75mm.
May 23, 2021