Popular summer arts festival is back
The 15th Abbeyfest arts festival gets underway at Merton Abbey Mills on Friday July 6, with a vast range of music, theatre and comedy events taking place every day until August 27.
The free Friday night jazz concerts are a highlight of the festival, featuring a different artist each week playing in the Bandstand.
The blues this year (Blues @ The Mills) includes Friday, Saturday and Sunday concerts at the Colour House Theatre and the Bandstand. Some of the events are free.
The comedy (Slaughterville @ The Watermill) features Edinburgh Festival previews from comedians including Marcus Brigstocke. He performs at the Colour House Theatre with Barry Castagnola on Friday July 6. There are also 19 theatre shows to pick from.

The Kidsfest, now in its 6th year, takes place on Monday August 27 from 11am-5pm. Organisers promise a day where children take centre stage and the event is free, including lots of entertainment and hands-on workshops.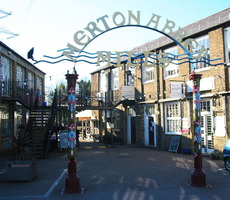 Festival director and founder, Peter Wallder, said: "Abbeyfest boasts to be the longest event of its type with over 50 days of performance every year. The festival creates the opportunity for many new, aspiring and established actors, performers, musicians, writers and directors to have a platform to showcase their work.
"Every year Abbeyfest creates many valuable work experience placements for students in surrounding schools and colleges to gain a real hands on insight to the entertainment industry".
For more information about the festival: Click here.
June 29, 2012