Popular summer arts festival is back
The 14th AbbeyFest arts festival got underway at Merton Abbey Mills on Friday July 8, with a vast range of music, theatre and comedy events taking place every day until August 29.
The free Friday night jazz concerts are a highlight of the festival, featuring a different artist each week playing in the Bandstand.
The blues this year (Blues at the Mills) runs over the August Bank Holiday Weekend and includes Friday, Saturday and Sunday concerts from the Bandstand.
The comedy, theatre and some blues events take place in the Colour House Theatre. The comedy features four nights of Edinburgh Festival previews and there are 16 theatre shows to pick from.

The Kidsfest, now in its 5th year, takes place on Monday August 29 from 11am-5pm. Organisers promise a day where children take centre stage and the event is free, including lots of entertainment and hands-on workshops.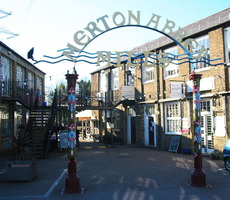 Festival director and founder, Peter Wallder, said: "AbbeyFest this year is a real return to our roots as we are 'Keeping it Live' in a big way through our three performance genres of music, theatre and comedy.
"The musicians that play AbbeyFest can't wait for it to come round, they have a wonderful time and we are so lucky that this level of talent love playing here every year which is a true testament to the festival and the audience it attracts."
July 13, 2011