Landmark building unveiled again after renovation
A fully-renovated New Wimbledon Theatre was unveiled today, completing a two-month programme of works on the century-old theatre's façade.
The crowning glory of the refurbishments, which cost more than £177,00, is the statue of Laetitia, the Roman goddess of gaiety who stands 100 feet up over Wimbledon. Fully clothed in radiant gold leaf, she holds a laurel crown – a symbol of celebration.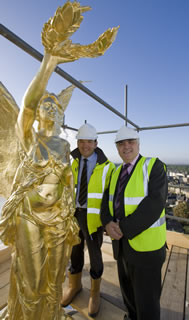 Work started on the outside of the theatre, a listed building, in July - including a new roof, restoration to the brick and stonework, repairs to windows and doors and improved drainage systems.
The final phase of backstage work is now being completed. This includes enlarging the space below stage to accommodate larger orchestras and a new scene dock which has been built on the side of the theatre to house bigger set pieces.
Merton Council's facilities technical manager David Leed (pictured left) oversaw the restoration which was carried out by Mitcham-based main contractor Moy Construction. The restoration of the gold leaf on the statue was completed by specialists, Sarah Booth.
The external refurbishment follows major improvements made to the inside of the building last summer when Merton Council ploughed in £550,000 to help with the restoration. This included a modified and flattened stage, improved views from seats in the stalls and improved back-stage areas.
The theatre building houses not only the neo-baroque auditorium. It is also home to a studio theatre. The theatre as whole attracts more than 250,000 theatre goers every year.
General Manager of New Wimbledon Theatre Maralyn Sarrington said: "We are thrilled to be undergoing such a thorough refurbishment in this our Centenary year and are very grateful to Merton Council. We hope that our newly glistening Goddess of Gaiety smiles down on our Centennial Celebration – our unique Charity Gala Variety show on 26 September – it will be a very special night."
Leader of Merton Council Councillor Stephen Alambritis (pictured right) said: "The New Wimbledon Theatre is one of our most beautiful buildings and it's still providing world class theatre and music to thousands of people every year. To see the refurbished building is so exciting, and now we can all enjoy the wonderful statue, who will hopefully draw even more people through the theatre's doors in future."
August 31, 2010