A busy night in Wimbledon town centre
Wimbledon's Conservative leaders were out on patrol with local police leaders, including Commander Mak Chishty - the new Met Commander for the South West London area.
Wimbledon MP Stephen Hammond together with Merton's Conservative Group Leader, Councillor Debbie Shears, and Councillor David Simpson, Conservative spokesman on Crime Prevention, joined Met Police Borough Commander Darren Williams and Commander Chishty for an evening patrol in the town centre on what was one of the busiest nights for police in the Christmas run-up.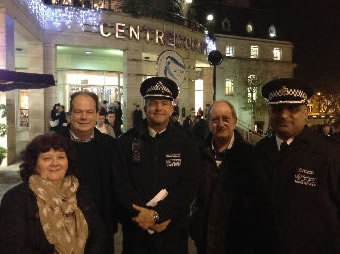 Walking through Centre Court shopping centre and around the town centre distributing police reassurance literature, Stephen and his colleagues praised the work of the Borough Commander and his team for the overall reduction in crime during the past ten months and thanked them for the work being done to ensure public safety during the festive season.
Councillor Simpson said: "It was fascinating to be out patrolling the streets with the local police on one of their busiest nights in the run up to Christmas. We saw at first hand the excellent work the Met police do in keeping our community safe here in Merton. Conservatives fully support the commitment by the Borough Commander to ensuring Merton's police officers spend more of their time out on the beat tackling crime which residents tell us is one of their major concerns."
January 4, 2013