Plans for Olympic tournament revealed
The All England Club is relaxing its traditional all-white dress rule when it hosts the tennis tournament being staged during the London 2012 Olympics.
Club chief executive Ian Ritchie said Wimbledon expects there will be a different type of audience for the event from its annual Grand Slam tournament.
He said: "We have been very supportive to the Olympic organizers throughout the process," he said. "We hope to some extent there will be a different type of audience. It is not a repeat of the Championships. It will be its own competition, have its own style and it will play out in its own way."
Other changes will include the International Olympic Committee "family" using the Royal Box on Centre Court. And only 12 of the available 17 courts will be required, meaning crowd capacity will be 26,000, down from 40,000 during the Championships.
There will be no scheduled night sessions, with play beginning at 11am local time, and expected to continue until about 8pm. As is the case during Wimbledon, play could carry on under the roof on Centre Court if circumstances demand.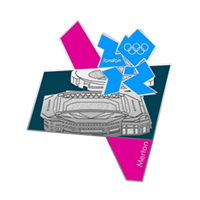 The tournament will see the new Court Three used for warming-up, and matches will be played over the best-of-three sets, except for the men's singles final, which will be best of five.
The event is set to begin July 28, 2012 — 20 days after the end of the Grand Slam tournament. The All England Club has made assurances the grass courts would be resurfaced in time following a successful test this year.
Next week organisers also start a consultation process with residents, including a special exhibition at the All England Club. Planning permission will be needed for the event's temporary facilities.
Debbie Jevans, London 2012 director of sport and venues, said organisers were confident there would still be an appetite for tennis at Wimbledon such a short time after the Championships.
"There will be a lot of people who do not get tickets for the Championships," she said. "It gives them the chance to see the best players in the world."
The 2012 tennis event will be the first to include mixed doubles, meaning there will be five gold medals up for grabs at Wimbledon.
Spain's Rafael Nadal won the gold medal in men's singles in Beijing four years ago. Roger Federer teamed with Stanislas Wawrinka to win the men's doubles for Switzerland.
Among the women, Elena Dementieva of Russia won the singles and American sisters Venus and Serena Williams captured the doubles.
Tickets for the 2012 Olympic tournament go on sale next year.
August 15, 2010