Wimbledon Village Fair To Be Opened By Annabel Croft
---
Former tennis star at big annual fund-raiser
Annabel Croft will be opening the annual Wimbledon Village Fair and Horse Show at 11am on Saturday June 19.
The event is the biggest fund-raiser for the 103-year-old Wimbledon Guild, which provides many valued services to people living in the area.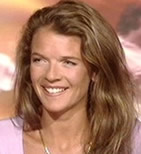 It features numerous actvities to suit all the family, including 200 craft and product stalls, a food village, pony rides, activities from AFC Wimbledon, a bouncy castle, sumo wrestling and much more.
Well-known local residents Annette Crosbie and June Whitfield will be joined by celebrities Timothy West, Prunella Scales, and comedians Hugh Dennis, Steve Punt, Tony Hawks, Sandi Toksvig, Andy Hamilton, and Clive Anderson in recording the appeals that will go out over the fair's loudspeakers.
The Horse Show starts at 9am, and there's also a popular Fun Dog Show. The Fair itself starts at 10.30am on Wimbledon Common Southside, with Annabel Croft (left), former number one UK tennis player, declaring it open at 11am.
June 14, 2010