Mayor congratulates young achievers
Merton's top school achievers were rewarded with a special event for secondary school pupils at the top of their class.
Top secondary school pupils in the borough attended the event at the Civic Centre in Merton where they were given praise by the Mayor of Merton Cllr Oonagh Moulton and Councillor Peter Walker for their outstanding results and individual successes.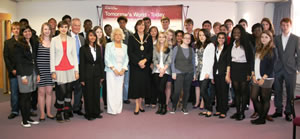 Pupils from Raynes Park High, Ricards Lodge, Wimbledon, Rutlish, West Wimbledon and Ursuline, Wimbledon, were among those nominatad for achieving great personal results, scooping top GCSE results or excelling at particular subjects.
Councillor Peter Walker cabinet member for education, said: "It is great to see so many of Merton's young people doing so well. Pupils of all abilities have worked really hard for this achievement.
"The education of all our young people is one of our top priorities and part of that commitment involves recognising and rewarding pupils when they do well."
September 9, 2010