New A24 Cycle Superhighway runs into the City
One of London's first Cycle Superhighways, running from Colliers Wood into the City, has been opened.
The distinctive blue lane, which starts on the A24 at Colliers Wood tube station, gives cyclists the chance to get to Southwark Bridge on a safe route in 45 minutes.
It features wider lanes and special "Trixi" mirrors to give drivers a better view of cyclists.
It is one of two lanes opened in London, with the other running from Barking into Tower Gateway. There will eventually be 10 more cycle superhighways.
Mayor of London, Boris Johnson, was joined by Merton councillors and staff when the lane was opened by Clapham Common.
Mr Johnson said Johnson said cycling accounted for 2% of journeys in the capital and he wanted to improve this figure to 5% - "a huge leap".
Merton council also organised a cycle awareness event, Changing Places, in Colliers Wood, which gave cyclists the chance to sit in a Heavy Goods Vehicle to understand the level of visibility experienced by drivers.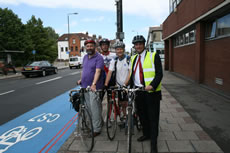 Merton council cabinet member for environmental sustainability and regeneration Councillor Andrew Judge (pictured far right with Paulo Camera, Nick Greenwood and Councillor Nick Draper) said: "London is a great city and all the more so when you travel by bike.
"The new Cycle Superhighway will give more space on our roads for cyclists. We want to see as many people out on their bikes as possible.
"It's such a great way to travel and at absolutely no cost to the environment. Once you've made that initial investment in the bike, it's also a very healthy and inexpensive way to get around."
For more details on the special lane, see Barclays Cycle Superhighways. For more information about Merton council's cycle training initiatives telephone 0208-545-3205/6.
July 20, 2010