Merton among locations used for dumping
A man has been jailed for a string of fly-tipping offences across west London, including Merton.
Leslie Price, aged 42, of Somerset Road, West Ealing, appeared before Isleworth Crown Court on Tuesday where he was sentenced to 12-months imprisonment for fly-tipping.
From June to November last year he and brother Leonard, 43, approached householders with building work underway, offering to dispose of their waste. Residents paid up to £130 for their waste to be removed, not knowing the brothers were dumping it across London, leaving local councils to clear-up the mess and foot the bill.
Leslie Price admitted at an earlier hearing to 12 offences - one in Merton, as well as six in Ealing, three in Hillingdon and two in Richmond. The prosecutions were brought after a joint investigation by all the councils, led by Ealing Council's Envirocrime team. They are pictured below investigating some of the worst offences.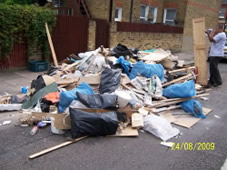 As well as a prison term, he was given an ASBO banning him from going back into the waste transportation and disposal business without an appropriate licence for five years. He will also have to forfeit one of the trucks he used to dump the waste.
Brother, Leonard Price, of Wyatt Close, Birmingham, admitted to helping Leslie on five occasions - twice in Ealing and three times in Hillingdon. He was ordered to carry out 200 hours' community service within two years.
Ealing's Cabinet member for Transport and Environment, Councillor Bassam Mahfouz, said: "The way these two brothers took the money, dumped tonnes of waste and just drove away was disgusting.
''The Price brothers are responsible for some of the worst fly-tips we've ever had in this borough, so I'm delighted they've been given some of the toughest sentences we've ever seen issued for this sort of despicable crime.
June 8, 2010