AELTC's charitable arm has been funding project to support the vulnerable
Members of the charitable arm of the All England Lawn Tennis Club have been presented with awards from the Mayor of Wandsworth for their role in supporting disabled and older people in the local borough.
The Wimbledon Foundation is funding a project that protects society's most vulnerable people from the dangers posed by cold temperatures.
The campaign is run by the Leonard Cheshire Disability Randall Close Resource Centre, Battersea, in partnership with the Wimbledon Foundation, Wandsworth Borough Council's Department of Public Health and the Police and Fire Services in Wandsworth.
The Wimbledon Foundation's Ulrika Hogberg and Wai Chan and have been recognised.
Wai (pictured below) said: "I am absolutely delighted to receive a Pin of Wandsworth and to attend the Roll of Honour presentations on behalf of both myself and Ulrika."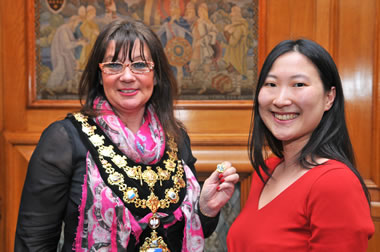 "Leonard Cheshire was a Member of the All England Lawn Tennis Club from 1983 and it is wonderful that we can continue such a long-standing relationship."
The Mayor of Wandsworth, Cllr Nicola Nardelli said: "I'm delighted to recognise the hard work Ulrika and Wai do all year to help disabled people in the borough, and their recent efforts helping to keep vulnerable people safe during the cold weather."
Leonard Cheshire Disability has seen a decrease in winter deaths in Wandsworth since the campaign started.
Roll of Honour, March 1:
Ulrika Hogberg, Foundation Manager, Wimbledon Foundation
Wai Chan, Grants and Communities Officer
Christine Ryan, Trusts Officer, Leonard Cheshire Disability
Commander Richard Smith, Commander of the Police
Commander Darren Munro, Commander of Fire Services
Hannah Gill, Lead for Older People, The Department of Public Health
Gerard Craine, Transport Supervisor, Randall Close
Julie Walker, Senior Support Worker, Randall Close
Susan Turner, Support Worker, Randal Close
Rupa Bhatia, Volunteer Coordinator
Veronica Thomas, Randall Close.
March 7, 2016