Public's chance to deliver verdict on scheme that's cut West Hill rat run traffic by 22%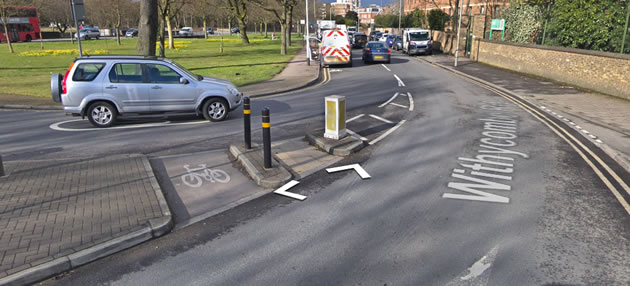 Withycombe Road . Picture: Google Streetview
A public consultation is drawing to a close into the merits of a scheme that has so far seen a 22 per cent reduction in rat run traffic through a neighbourhood in West Hill.Banning left turns at this junction has reduced through traffic by more than 20 per cent

A traffic calming initiative that has prevented vehicles entering two key access roads close to Tibbet's Corner during morning peak hours has seen a big fall in the number of cars and lorries travelling along quiet residential streets - following pleas for action from local residents.
The pilot scheme has now been running for almost a year – and the interim results published so far have shown a 22 per cent reduction in traffic using Withycombe Road, Princes Way, Keevil Drive, Skeena Hill, Girdwood Road, Granville Road and Merton Road.
Before the scheme was introduced, these streets suffered high levels of rat run traffic as motorists exited the busy A3 at Tibbet's Corner and turned into Withycombe Road and Inner Park Road to avoid congestion in West Hill.
But a Monday to Friday 7am to 10am ban on vehicles turning left from Wimbledon Park Road into Withycombe Road and the northern stretch of Inner Park Road has seen positive results.
The aim of the scheme has been to keep traffic on the main trunk road (West Hill) or encourage motorists to find alternative routes into Wandsworth town centre. Studies have shown that very little of this traffic is "local" but passing through the borough to and from other destinations.
Wandsworth's transport spokesman Cllr Paul Ellis said: "The scheme appears to be doing what it set out to achieve and has reduced the amount of through traffic using these residential neighbourhoods in West Hill.
"This trial initiative was introduced because local people had expressed deep concerns about traffic levels and vehicle speeds in the area, but before any decision can be made on whether to make this change permanent we need to listen to the views of local people.
"Now is their chance to tell us what they think. We are asking local people to let us know whether or not the changes have had a positive or negative effect. Their views will play a pivotal role in determining if this scheme is made permanent or further amendments are made."
People can submit their views by visiting https://haveyoursay.citizenspace.com/wandsworthecs/west-hill-19/consult_view/ before March 24th . To request a paper copy of the questionnaire please email consult@wandsworth.gov.uk.
March 13, 2020