Rat Run Camera Builds Localised Traffic Issues
---
Residents say that traffic in Inner Park Road has increased as a result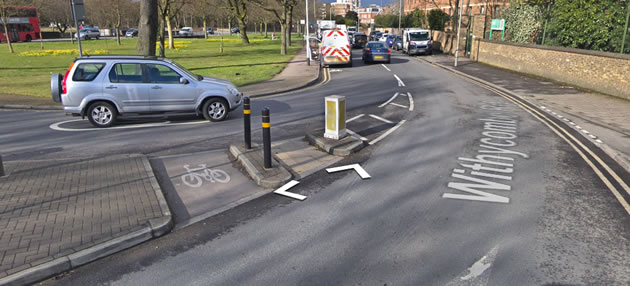 Withycombe Road . Picture: Google Streetview
A local resident has reported that a pilot scheme designed to deter rat-run drivers from clogging streets in West Hill is causing more traffic to block up Inner Park Road. According to figures provided to him by Wandsworth Director of Traffic Management - Nick O'Donnell - states there is an 84 % increase in traffic using Inner Park Road west of Chapman Square going east.



Figs supplied by J Ewing from WBC

Resident John Ewing told this website: "Mr O'Donnell has refused to provide the numbers to support the claim by Cllr Ellis. This trial test demonstrates the desire of many commuters to avoid West Hill during rush hour. Traffic Management at Wandsworth show an ability to move the traffic flow – but do nothing to help the commuters struggling to get to work. There needs to be a solution which helps both commuters and local residents – not one designed solely to make life difficult for commuters".

A spokesperson for Wandsworth Council told this website: "The initial results from this pilot scheme have seen a 22 per cent drop in morning rush hour traffic travelling through the residential streets that were most severely affected by rat run traffic prior to the changes being introduced".

He continued that the council would continue investigating the impacton the surrounding area: "For the next six months we will be further monitoring all impacts from the scheme across the area, taking into account any potential changes in driver behaviour and patterns prior to any final decisions made by elected councillors next year."

People can submit their observations on the scheme's effectiveness by visiting https://haveyoursay.citizenspace.com/wandsworthecs/west-hill-19 before March 24 of next year. To request a paper copy of the questionnaire please email consult@wandsworth.gov.uk.
October 9, 2019