Catch it at The Wimbledon Theatre

Footloose made a star out of a very young Kevin Bacon and the musical has retained its popularity since that 1984 screen version burst on the scene.
A young, versatile cast keeps the vibrancy alive in the musical version at The Wimbledon Theatre this week ( May 2-7) part of a major UK Tour, starring Lee Brennan ( The Big Reunion) making his musical theatre debut as the character of Willard.
The musical sparkles with the same spirit of youth, rebellion and romance.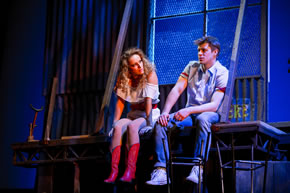 Image-Matt Martin
The show tells the story of city boy Ren, who has to move to the rural backwater of Bomont, in America where dancing is banned. All hell breaks out as Ren breaks loose and soon has the whole town up on its feet. Featuring classic 80s hits including Holding Out for a Hero, Almost Paradise, Let's Hear it for the Boy and the unforgettable title track, Footloose: The Musical is set to take the UK by storm.
Those of us of a certain age will recognise Maureen Nolan ( The Nolan sisters), playing the role of Vi Moore. Nigel Lister is very good as the strict Reverend Shaw Moore whose daughter has fallen in with a rebellious crowd. Hannah Price as Aeriel had a fine voice and good stage charisma, and Luke Baker gave a strong performance as Ren.
There was a great ensemble performance from the young cast, many of whom proved to be versatile musicians. It was no small feat doing all that dancing and moving around a tightly-packed set on what appeared to be quite a small stage.
There's still time to catch it at the Wimbledon Theatre before it goes on its UK tour.
The Musical has music by Tom Snow and lyrics by Dean Pitchford, and is adapted for the stage by Dean Pitchford and Walter Bobbie. It is based on the original screenplay by Dean Pitchford. It is directed and choreographed by Racky Plews (American Idiot, West End).
www.footloose-musical.com
@FootlooseTour

Show: Footloose the Musical
Date: Monday 2 – Saturday 7 May, Mon – Sat eves 7.30pm, Thu & Sat mats 2.30pm

Ticket Price: From £17.90 (fees apply)
Address: The Broadway, Wimbledon, London, SW19 1QG
Book online: http://www.atgtickets.com/wimbledon (fees apply)
Telephone Booking: 0844 871 7646 (fees apply)
Groups Bookings: 0844 871 7696 (fees apply)
Access Bookings: 0844 871 7677 (fees apply)
Calls cost 7p per minute, plus your phone company's access charge.


May 5th 2016