'Traf' Is Top South West London Pub
---
Beats six other finalists for top CAMRA prize
The winner of the annual search for the Campaign For Real Ale's South West London pub of the year is the Trafalgar in South Wimbledon.
Seven pubs in Wimbledon, Wandsworth and Battersea were on the shortlist, but the "Traf" (left) in High Path was announced as the winner at the Battersea Beer Festival on Thursday (February 9).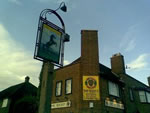 Second place went to the Eagle Ale House in Chatham Road, Battersea, and third was another South Wimbledon pub, The Sultan, in Norman Road (left).
The Trafalgar, which also won in 2009 and 2007, will now go through to the final of the London pub of the year - an award it won in 2008. The current holder is the Harp at Chandos Place in Covent Garden.

The other finalists were the Hand in Hand, off Wimbledon Common; Le Gothique, in the Royal Patriotic Building, on John Archer Way in Wandsworth; the Old Sergeant, in Garratt Lane, Wandsworth; the Falcon in St John's Hill, Battersea.

Do you agree with the winners? What's your favourite pub? Why not comment on our forum?
February 10, 2012