Planning committee rejects plans for nursery and tennis courts

Putney MP Fleur Anderson with some of the club's members
April 28, 2023
The Wimbledon Park Rifle Club is to remain open after plans to demolish it for a new nursery and tennis courts were refused. More than 25,300 people signed a petition to "save" WPRC, which has called Southfields home since 1904.
Developer ISC Limited had applied to bulldoze buildings on the Granville Road site, which included a clubhouse, open-air rifle range and members' allotments, for a nursery for up to 80 children, a play area and three mini tennis courts. The application had been revised with changes including a reduction in the footprint of the proposed buildings.
But Wandsworth Council's planning committee unanimously rejected the application on 25 April.
Elen Richards, team leader in planning and transport at the council, said the existing facilities are "well-used", and "well-valued by the community" and the allotments have a waiting list of more than 100 people.
Council officers acknowledged the applicant had "submitted a great deal of information in relation to the proposed nursery development and any possible benefits of the scheme", she said, but had ruled they did not "outweigh the harm that would result through the loss of the existing rifle club and allotments".
Ms Richards said officers' objections included the loss of open green space "with no replacement or compensatory provision". She said the nursery would "result in increased noise and disturbance in the area than the current rifle club", adding the environmental health officer had raised concerns there would be greater activity nearer to residents' homes where there is currently "quite a quiet open space of allotments".
Conservative councillor Guy Humphries said at least one nursery close to the site had shut recently over a lack of demand. He said, "I think the key principle here is why would we want to lose some well-loved and used local amenities that serve the local area and a wider, even a global, area – as far as the importance of the rifle club's concerned – for something… there's no demonstrable need for, particularly things like a nursery school in the area."
It comes after a Change.org petition to "save" the club and members' allotments was signed by 25,308 people. The petition called for the "demolition and destruction of this green recreational space" to be halted.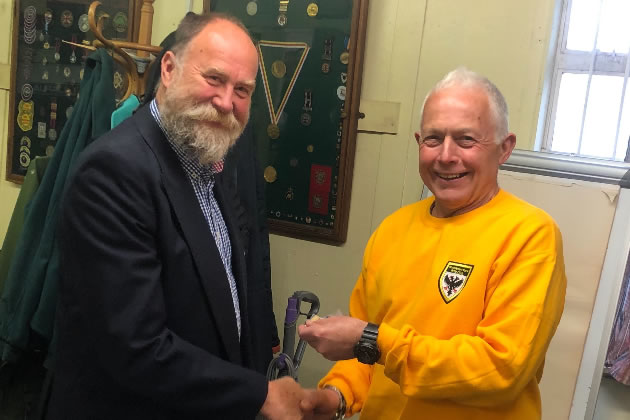 Jon Leech, president of Wimbledon Park Rifle Club, (left) presenting a medal to competitor Keith Ealey (right). Picture: Bernie Ealey
The plans also received 567 objections. Irina Lee wrote, "Closure would mean most shooters that rely on club equipment would have to give up the sport as most other clubs do not have the storage space to be able to hold equipment for you. There would be breakdowns in personal relationships which for many older members are essential for their mental health."
Christopher Wells commented: "I have been an active member of WPRC for over 20 years. The club has a proud history and a growing membership and has a good relationship with the local community. With so many buildings taking place an open-air facility such as this should be a priority to maintain as once lost in an area such as London cannot be replaced."
Pierre-Emmanuel Galisson added: "This club has been in existence for more than a hundred years and has been the backbone of [the] team GB competition team."
A planning statement from ISC Limited said the scheme would bring "more benefits to the local community, by improving local sports provision and encouraging a healthy and active lifestyle for children", an alternative outdoor sporting facility and increased access to the site. It said WPRC members could go to nearby clubs instead with "at least equivalent facilities".
The statement argued the site is not an "open space" enjoyed by the wider public as it is in a "backland location, is in private ownership and is leased to a rifle club". It said the application complied with planning policy at all levels and the nursery would provide "much-needed community facilities".
A cover letter from agent Verve Planning said the "need for quality early years education remains very strong in the local area, as evidenced by the interest from nursery operators in this site" and that two recent closures of local early years facilities "were not due to lack of demand". It also said the amenity of neighbouring residents would not be harmed by the scheme and that it would provide high-quality landscaping and biodiversity enhancements
Fleur Anderson MP for Putney said after the meeting, "I am delighted by Wandsworth Council Planning Committee's decision to save the Granville Road allotments and 120 year-old Wimbledon Park Rifle Club. I have been campaigning fiercely for two years alongside local residents – 25,000 people signed the petition to save the green public space. I'm extremely pleased that we've won this campaign after two years of hard work."
Local resident and campaigner Sarah Donlan said, "I am delighted that after 2 years of campaigning, Wandsworth Council have refused permission for the allotment gardens, part of the historical Riffle Club, and the Club building from being demolished. The impact on the community of losing these facilities would have been terrible - we need our green spaces now more than ever. Thanks to all 25,000 people who signed the petition and the hundreds of people who took the time to write in to Wandsworth Council. This shows what community campaigning can achieve."
ISC Limited has been approached for further comment.