Evasion rate on New Routemasters double that on network as a whole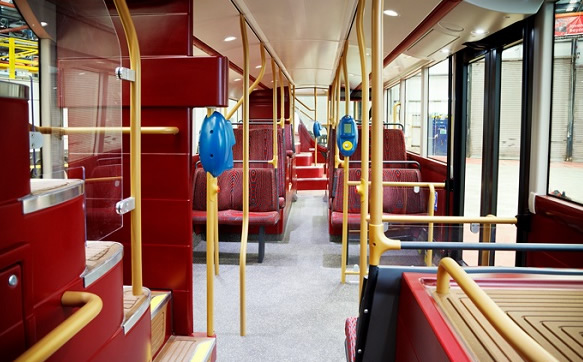 Fare evasion on 'Boris Buses' cost Transport for London (TfL) £3.6 million last year, according to analysis by the transport network.
The rate of fare evasion on New Routemaster buses is more than twice as high as the bus network as a whole.
Critics of the new Prime Minister say the problem only adds to the 'headache' caused by his fixation on nostalgic bus design.
Mr Johnson's Routemasters date from his time as London Mayor – modelled on traditional London buses, they allow passengers to tap in at any of three entrances.
But TfL is now trialling single-door entry, which will see customers tap in at the front door only, as on other buses.
The new system will start on the route 8 and N8 service from Bow Church to Tottenham Court Road this Friday. If successful it will be extended to all New Routemaster buses in future.
Services through Wandsworth using the Routemasters include routes 87 and 137. The 37 from Putney Heath is believed not to be affected because it is a 'son of Routemaster' style bus with one stair case and two doors rather than two staircases and three doors seen on the 'Boris Buses'. Other services such as routes 9, 11, 27, 211 and 267.
Boris Buses make up 11 percent of the bus network - 1,000 of the 9,000-strong bus fleet.
But they caused a disproportionate four percent of lost revenue across all TfL services in 2017/18 – including Tube, Overground and other rail services.
The Prime Minister's buses previously faced criticism when the lack of air-conditioning or opening windows subjected passengers to sweltering temperatures of 30°C and higher.
Transport for London has since retrofitted opening windows, at a cost of £2 million.
Labour's City Hall transport spokesperson, Florence Eshalomi, said fare evasion on the Routemaster added to problems created by the former Mayor's buses.
She said: " You had the new Prime Minister when he was Mayor of London prevaricating about bringing back old-style buses, but he didn't want to clamp down on evasion – and now we have a problem. "
She added: "This is another layer of problems that we've been lumbered with by Boris Johnson – it's just another thing adding to the headache. It's one thing after another."
Liberal Democrat assembly member Caroline Pidgeon said TfL was right to tackle fare evasion, but single-door entry "undermines the very point" of the Routemaster design.
She said: " Fare evasion must be tackled, but instead of the vast majority of honest passengers being penalised with slower and more inconvenient journeys I would like to have seen TfL consider stronger penalties for fare evasion and greater use of revenue protection officers."
A TfL spokesperson confirmed the changes to the route 8 bus, and said wheelchair users would still be able to enter through the centre doors.

Jessie Mathewson - Local Democracy Reporter
August 9, 2019