Residents express concern about growing number of empty shops

Sarah Spencer says the vibe in Southfields is 'amazing' during the Wimbledon Championships
August 15, 2023
There are growing concerns among residents of Southfield that the area is becoming too expensive for some businesses to survive in. People living and working in Southfields praised its green spaces, schools and transport links, but concerns have been raised that high rents are putting off new businesses from opening, meaning empty shop units are not always filled quickly.
Southfields Tube station is just a five-minute walk from the entrance to Wimbledon Park, where people queue for the tennis tournament. The neighbourhood sits between the park and the River Wandle, while also being close to Richmond Park and Wandsworth, Putney and Wimbledon Commons.
A recent £1.6million scheme from Wandsworth Council saw improvements to the area, including wider pavements, new trees, more cycle stands and upgraded street lamps. The council previously said the upgrades would improve travel options in the area and enhance its "village-style" atmosphere.
Sarah Spencer, 59, told the Local Democracy Reporting Service she moved to Southfields eight years ago for the green space. She said the area is "lovely", while most locals are "helpful and they've got a nice vibe".
Ms Spencer loves living in the area during the Wimbledon Championships, which take place over two weeks every summer. She said, "I love the fact that we have the Wimbledon tennis here because the vibe's amazing. All the shops decorate their windows, which is lovely, and it's just a vibe – so many tourists around, so many visitors and you see tennis stars walking around… because they rent out the houses around here."
She said the area has good transport links as it has a "Tube and you can also walk to Earlsfield if you want a mainline train, or you get the Tube to [the] Wimbledon train and you can get the tram as well going to Croydon". She also said the schools have a "very good reputation".
But she described the number of empty shops in Southfields as "awful". She said, "What's really sad is, here it's quite an affluent area and nobody is opening new businesses because they're stymied by the rent."
She said the area has "three chemists, three opticians, three supermarkets, two gift shops – we don't have a bookshop, we don't have a dress shop". She added, "I think it would be really nice to have little tapas bars, a little deli, a little wine bar maybe with organic wines."

Replingham Road, Southfields
Rie Bromley, a manager at the Southfields branch of Oxfam, said the area is "safe" and "feels like a village". She said, "If you go further up to Wimbledon Village, [it] feels really villagey but that's posher and here is more diverse. We have a mix of people, different backgrounds. That's always nice."
Ms Bromley said the area gets busier during the Wimbledon Championships which "helps businesses" and praised its green spaces. She said, "It's a very green area because you have all the parks. It's OK with transport because you could be in Central London in 30 minutes, 20 minutes, so it's very easy to access Central London and lots of green areas, the library's nice.
"There are some empty shops so people need to maybe have more small businesses, restaurants – stuff like that is lacking. We have the coffee shops, they are everywhere, but we need little independent businesses, eateries and things like that." She said three banks in Southfields had closed down which "affects the businesses as well because we have to do our banking in Wimbledon".
A 20-year-old working in Southfields, who wished to remain anonymous, also said the neighbourhood is "peaceful and people get along with each other". She said, "Southfields is small, in a sense, so neighbours or people who work in a shop all know each other so it's easy to look out for each other.
"It's just a very friendly community and it's very much a residential or family-oriented place because along the streets you see all these houses that have been there for ages, and the families just keep bringing it down the generations. It's basically the same families staying there probably for the past few decades, so everyone is just raising their kids there."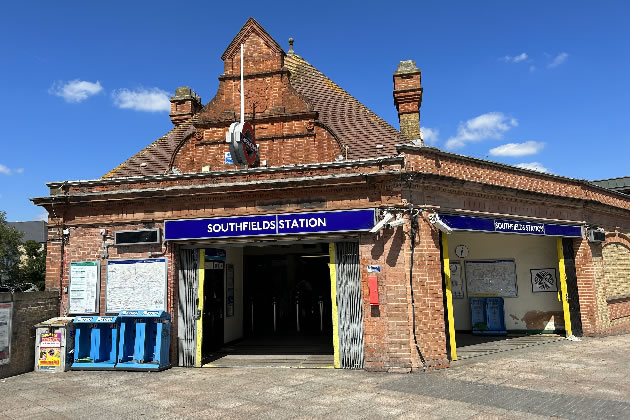 Southfields Underground station
The shopping streets around the station attract more visitors, she said, but they are "not so commercialised to a point that it becomes a tourist spot". She added, "In general, it's quite a quiet area, unless there's Wimbledon Tennis things that happen down the road."
Paulina Smolarczyk, 32, manages the Southfields branch of food store Polski Sklep and also described the area as "so nice". Ms Smolarczyk, who lives in Roehampton, added, "Here [it] is very peaceful, every person here is very nice."
Regarding the concerns raised about empty shops, a Wandsworth Council spokesperson said: "The council is fully committed to working with local residents and businesses to keep Southfields special and to doing all it can to ensure any shop vacancies are short-lived."
Charlotte Lillywhite - Local Democracy Reporter