Desperately Seeking Donor
---
Register. Swab. Save a Life - Swab for Margot
17 month old Margot who lives in Roehampton, has an extremely rare form of blood cancer which has dual lineage - both Acute Lymphoblastic Leukaemia (ALL) and Acute Myeloid Leukaemia (AML). The consultant haematologist at Great Ormond Street Hospital told Margot's family that he has only seen three such cases in the last ten years and in order to survive Margot needs a stem cell donation from someone with a similar tissue type as hers.

On YouTube there is a video about Margot who was diagnosed with Leukaemia on the 7th October 2013, at just 14 months old. So far Margot's family have not found a perfect blood stem cell match for her, hence this ongoing appeal. Time is not their friend.
You could save Margot's life or someone like her, by going online and registering at www.deletebloodcancer.org.uk. Delete Blood Cancer UK will send you a simple swab kit to your home, you rub this against the inside of your cheek and send it back. That's it, just 5 minutes of your time and you could be the match and save someone's life - it could be Margot's.
Alternatively,if you are in or around Sheen on Sunday 2nd February between 10am and 4pm, you could pop along to the donor drive organised by the Delete Blood Cancer charity and the Martini family - it will be an opportunity to swab and register right away.

Join Gary Barlow (@GaryBarlow) and show your support; remember it is simple:
'Register. Swab. Save a Life - Swab for Margot'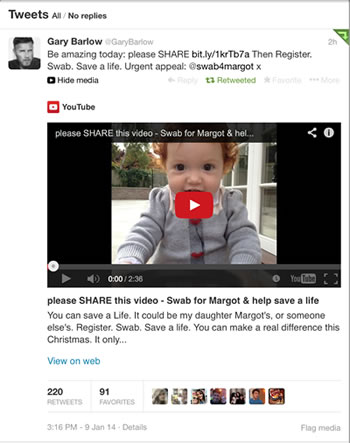 January 23, 2014