A 3 mile sponsored walk will raise funds & encourage sufferers to enjoy a walk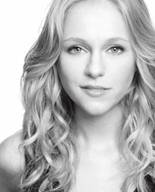 Two popular faces from TN will show their support for this year's Arthritis Care Week (9-15 May) by taking part in a sponsored walk in London, on 8 May, to raise much-needed funds for Arthritis Care. Actress Kelly-Anne Lyons, from the BBC TV series Dick and Dom's Funny Business, who herself had arthritis as a child, and the Doctors soap actress Sophie Abelson (pictured left), will be joining the many charity supporters who are taking part in the London Amble.
Arthritis Care is calling on people to Amble for Arthritis along London's Embankment to help promote walking as a way to ease the pain of the country's biggest single cause of physical disability. Arthritis means inflammation of the joints. Most people with arthritis will experience pain and difficulty moving around. Around 10 million people in the UK have arthritis. There are over 200 kinds of rheumatic diseases – the word rheumatic means aches and pains in joints, bones and muscles. Two of the most common forms of arthritis are osteoarthritis (OA) and rheumatoid arthritis (RA)

Suzanne Salmon, Fundraising Manager for South England, said:
'Walking helps maintain muscle tone and joint stability, increases bone density and reduces joint stiffness. It controls weight which reduces the strain on vulnerable joints, and so the Amble will be a perfect way for people with arthritis to enjoy a day out and help to manage their symptoms.'


Kelly-Anne Lyons said:
'As Arthritis Care's celebrity supporter for young people with arthritis, I want to raise awareness of how widely the condition affects people of all ages, including children. I'm really looking forward to doing the London Amble and showing support for the 10 million people in the UK who have arthritis.'
The three-mile sponsored walk will be starting in Victoria Embankment Gardens between Westminster and Embankment tube stations at 12pm, and finishing the other side of Tower Bridge. It is planned to be a fun event for people with arthritis and their friends and family to get involved.
Those interested in taking part in the Amble for Arthritis should contact Arthritis Care South England on 0844 888 2111 or email southengland@arthritiscare.org.uk to register their details.
Arthritis Care Week is the charity's biggest fundraising event of the year. During the Week ambles will be taking place across the country. Funds raised will go to provide practical and emotional support for people with arthritis across the UK.
March 30, 2011