A message from Transport for London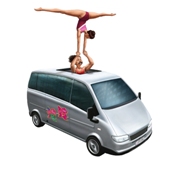 London has now become an Olympic City. Please avoid driving into central London, on and around the Olympic Route Network (ORN) and near Games venues. Roads within the North Circular and the South Circular will also be affected this week and especially the key routes leading into London.
Congestion is already being seen on the A13, A2, A3, A12 and A40. Drivers using these roads should be prepared for significant delays and are advised to plan ahead, particularly to see whether journeys can be retimed to avoid the morning and evening peak periods.
Olympic Route Network (ORN)
The ORN will come into operation and be enforced from 0600 Wednesday 25 July. This also includes 30 miles of 'Games Lanes' for the use of athletes, officials and the world's media to get them to their events on time. Games Lanes will be operated flexibly and opened to regular traffic if there are times when they are less busy. A network of 150 Variable Message Signs along the route will advise motorists when Games Lanes are open to regular traffic. To watch a short video explaining how the Olympic Route Network and Games Lanes work, please click here

Hotspots for the first few days
Thursday 26 July – Torch Relay passes through central London. Roads will be temporarily closed before it arrives and will be exceptionally busy.
Friday 27 July – Last day of the Torch Relay and the Opening Ceremony. Please avoid the Stratford area after 1500 unless you have a ticket.
Saturday 28 July/Sunday 29 July – Men's and Women's Olympic Cycling Road Race. Avoid driving in central and south west London.
Monday 30 July – Greenwich Equestrian Cross–country event; avoid the area as it will be exceptionally busy and avoid using London Bridge station.
Friday 3 August/Saturday 4 August – Athletics events start at the Olympic Stadium. The Stratford area will be exceptionally busy; you are advised to avoid travelling to Stratford on these dates.
Road events
As well as the large road events on 28 and 29 July mentioned above, there are also a number of other road events on the following dates: 31 July; 1, 2, 4, 5, 7, 11 and 12 August and 9 September. Bus diversions and road closures will be in place. For more information on all Games roads events, including times and race routes to avoid, please click here
Games time travel information
As every day of the Games is different, during the Olympic and Paralympic Games we will be sending you daily email travel alerts with advice about key hotspots that you will need to avoid the following day.
The Congestion Charging zone will be fully operational during the Games period and you will need to pay the charge in the normal way.
For full details online of:
• Twitter traffic updates, visit tfl.gov.uk/socialmedia
• Cycling routes and maps, visit tfl.gov.uk/cyclingjourneyplanner
• Games travel hotspots by day, visit getaheadofthegames.com

TfL are working to both deliver a great Games and to keep London moving. Thank you in advance for your help with this.

July 24, 2012