Join in the 'Shout About Your Volunteering' this month
National Volunteers Week provides an opportunity to focus on the importance of volunteers in our communities and to say thank you to all of those who give their time.

The celebrations included the launch of three fantastic initiatives where Deputy Mayor, Councillor John Sargeant and Mayor of Merton, Councillor Krystal Miller showed their support.
The initiatives are: Alzheimer's Connecting Communities; Merton Community Transport's Voluntary Car Scheme and Merton and Lambeth Citizen's Advice Bureaux Information Hub and Contact Centre in the Mitcham Bureau. Age UK also hosted a lunch to thank their volunteers.
Hayley James, Volunteering Strategy Programme Manager for the Merton Partnership, said: "Merton was bustling with excitement as we helped launch these new volunteering projects. The time that these individuals give is a crucial contribution to binding our communities together and making Merton a better place to live and work."

She continued: "We also recognised and celebrated each organisation's existing volunteers who already do so much. Many organisations would struggle to survive without the dedication of their volunteers. We want people giving their time to their local community so if you want to get involved then please let us know."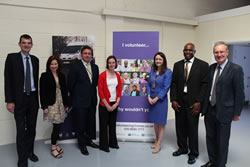 Merton will continue to celebrate throughout June with the SHOUT ABOUT YOUR VOLUNTEERING campaign. It features 20 local residents and showcases their commitment to the community by telling their story. Also, 20 volunteering opportunities will be promoted to give more people a chance get involved.

You can check out the SHOUT ABOUT YOUR VOLUNTEERING stories and the volunteering opportunities at www.mertonconnected.com.
June 13, 2013