TfL offers advice for people travelling tonight or tomorrow
Transport for London has issued advice to Londoners using public transport on New Year's Eve and New Year's Day.
Today 31 December, TfL says service changes and road closures have been implemented to help the celebrations run smoothly. These include:
Free travel across TfL's network between 11.45pm and 4.30am
Tube: Normal Sunday service, although some stations will be busier than normal and others will become exit-only. TfL says this is still the best way to get around - services run throughout the night
Buses: Sunday service, diversions in central London start at around 2pm - some day routes run into the night
London Overground: Sunday service, no service on some lines and some services run throughout the night
Driving: The Congestion Charge and T-Charge won't apply. Planned road works, including the A1 Holloway Road and road closures in central London for New Year's Eve celebrations
DLR: Services run throughout the night
TfL Rail: No service on the entire line. Replacement buses will run throughout the night calling at all stations (except Liverpool Street and Maryland), as well as Newbury Park for the Central line
Trams: Sunday service until last scheduled tram followed by an all-night service
You can see full details of changes on TfL's website .
On 1 January, service changes include:
Tube: Reduced service from 4.30am and then a Saturday service from 11am.
Buses: Sunday service with diversions in central London from early afternoon for the New Year's Day parade
Driving: The Congestion Charge and T-Charge won't apply, and some roads in central London will be closed
Trams: Amended Sunday service
Taxis: An extra £4 per journey
Cycling: Some docking stations in central London will be suspended
Rivers: Weekend service
Again, you can see full details on TfL's website.

New Year's Day Parade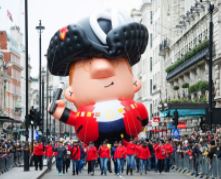 The annual London New Year's Day parade 2018 will take place on Monday 1 January 2018 from midday till 3.30pm. Road closures and bus diversions will be in place before, during and after the event. Check the driving and buses section below for details on how your travel will be affected.
The Parade takes place on closed roads in Piccadilly following a route via Piccadilly Circus, Lower Regent Street, Waterloo Place, Pall Mall, Cockspur Street, Trafalgar Square, Whitehall and will finish in Parliament Square. View the parade route on the official website.
December 31, 2017