Trinity's Easter Chicks celebrate their 20th anniversary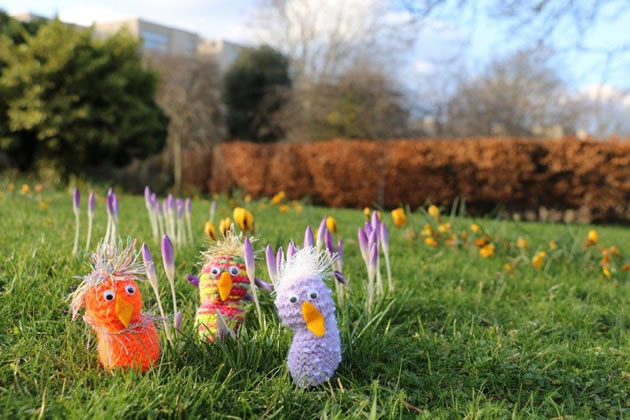 Royal Trinity Hospice's Easter Chicks are celebrating their 20th anniversary in 2019, making it Trinity's longest running fundraising campaign.
Every year, Trinity supporters knit thousands of handmade chicks, each stuffed with a chocolate egg, which are sold in the hospice and local schools to raise funds to support Trinity's care. Since 1999, over 50,000 chicks have been knitted and sold, raising £108,321 for the hospice.
Royal Trinity Hospice provides free compassionate care to adults with progressive, life-limiting conditions across central and south west London. Trinity must raise over £9.5 million a year to continue providing care. Much of this vital income comes from the supporters throughout the local community and campaigns such as Easter Chicks.
Each chick is unique with hats, feathers and hairstyles just a few of the creative techniques employed. This year, over 6,000 chicks have been knitted by hand by the Trinity knitters, many of whom have been involved for several years. Some have a personal connection to Trinity and experience of their care, but supporters from across the Putney community also get involved on an individual basis and through local groups.
The success of the longstanding campaign is also due to the support of the wider community, as every year dozens of schools, including Sheringdale Primary School, get involved to help sell the chicks and raise vital funds. It has become an annual event for many, with some selling hundreds of chicks each year.
Ben Ansell, Head of Fundraising, said: "We're delighted to be celebrating 20 years of Trinity Chicks. Every year, it's amazing to see our local community and supporters join together to knit and stuff thousands of chicks in time for Easter.
Our chicks are immensely popular with local schoolchildren and a great way of opening the hospice up to the local community. We'd like to thank all of our incredible knitters, and all the schools and businesses who support us each year with this campaign. We would not be celebrating our twentieth anniversary without them."

Trinity's Easter Chicks are on sale in the reception at Royal Trinity Hospice, 30 Clapham Common North Side, from Monday 1 April, 9am-5pm.

April 2, 2019