South Western Railway warns of 'severely reduced' service and crowded trains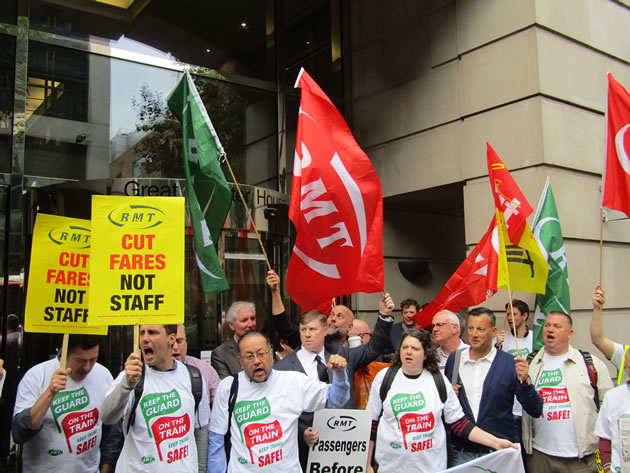 RMT members demonstrate outside the Department of Transport
Strike hit rail operator South Western Railway (SWR) is aiming to run two thirds of their services during the ongoing action by the RMT. They are publishing timetables for strike days which they are advising passengers to check before travelling.
A significantly reduced service operated on the first day of the strike on Thursday 26 July and was further reduced on Saturday 28 July with just 50% of scheduled trains running. SWR say services will continue to be cancelled or delayed and others will be busier than usual.
According to SWR nearly 70% of trains ran on Thursday and there was just a 12% reduction in passenger numbers at Waterloo with one in four guards scheduled to work reporting for duty.
Commenting on the strike a SWR spokesperson said, "It is frustrating and disappointing that the RMT union has decided to go ahead with plans to strike on our network. This is despite proposals we have put forward which are similar to that of another train operator, Greater Anglia, which the RMT has recently agreed to. We are urging the RMT to return to talks and end this damaging disruption to passengers."
Rail replacement buses and ticket acceptance with other operators has been put in place where possible and longer trains will be used to provide extra seating. Bus replacement services and ticket acceptance on other rail and bus networks are in place on a number of routes, and tickets for Saturday 28 July will also be honoured on Friday 27 July, Sunday 29 July or Monday 30 July 2018.

The RMT has instructed its members no to book on of any shifts on the following days:
Tuesday 31 July
Saturday 4 August
Saturday 11 August
Saturday 18 August 2
Friday 31st August
Saturday 1st September 2018
The RMT say their strike has been 'rock solid' so far and their Mick Cash said just before the start of the strike, "RMT is angry and frustrated that a request by the union to get serious talks with South Western Railway bolted down by noon today has been met with the same old tired response from the company that refuses to move the process on and address the fundamental issues.
"That is no way to treat a serious dispute that will impact on huge numbers of passengers through into September and SWR need to get out of this bunker mentality.
"It is particularly galling as positive proposals the union put forward in earlier talks that could have formed the basis of an agreement were welcomed by the management side but were subsequently sabotaged as they were escalated up the SWR management structure."
The union claim that safety is compromised unless there is an absolute guarantee of a guard on all trains. South Western Railway say that they will roster guards on all services but that trains should be allowed to run in the event of one not being available. They argue that there is no evidence of any greater risk with a driver only operated train.

July 30, 2018