Union calls off action after company agrees to ACAS talks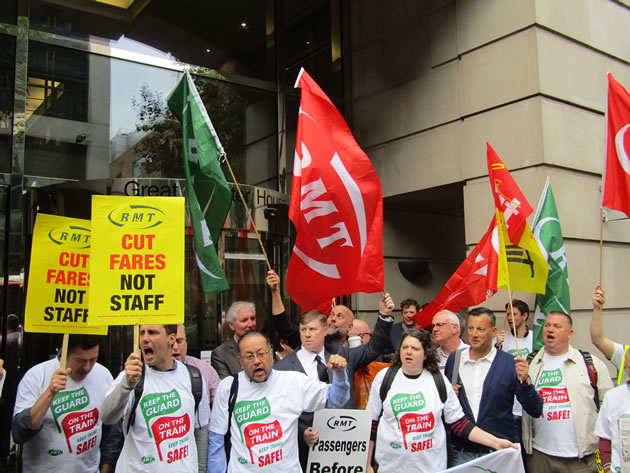 RMT members demonstrate outside the Department of Transport
The RMT union have announced that a planned series of strikes on the South Western Railway (SWR) network in a dispute over the role of guards has been suspended.
They say the move is a 'goodwill gesture' after the company agreed to take part in talks with the arbitration services ACAS.
A series of 24 hour strikes had been planned starting on Wednesday 9 May and then on four subsequent days during the month. Services at stations such as Chiswick, Putney, Brentford, Kew Bridge and Wandsworth Town would have been affected.
Mick Cash RMT General Secretary said, "The union welcomes the fact that SWR has agreed to our offer of ACAS talks in the current safety dispute over the threat to guards and the extension of driver only operation.
"As a gesture of good will, and in order to try to resolve this dispute, RMT's NEC has decided to suspend all strike action called. Therefore members will work normally on 9th, 11th, 14th, 16th and 18th May 2018.
"I have contacted the company today requesting that ACAS talks are arranged at the earliest possible opportunity. The company have also been advised that if these talks do not commence by 18th May 2018, the union's NEC may consider further industrial action."
The strike was originally announced as RMT members from across the country gathered outside Parliament towards the end of April to mark the second anniversary of the guards' dispute on Southern Rail, Britain's longest running industrial dispute. There had been fears that a protracted dispute on the South Western Railway network over the same issue would have led to a similar decline in the standard of service as has been seen on Southern.


Live Updates on South Western Rail Services
May 2, 2018