RMT continue dispute with South Western Railway over guards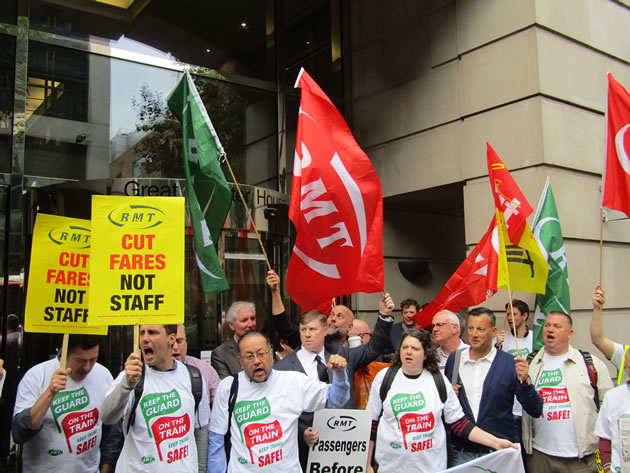 RMT members demonstrate outside the Department of Transport
More industrial action is planned by the RMT in their dispute with South Western Railway over the issue of the role of guards.
The union have instructed their members not to do any rest day working from Good Friday to Easter Monday. They have also instructed guards to refuse to work within arrangements which allow for flexibility in shift start and finish times.
A spokesperson for South Western Railway said, "We're really sorry that once again, you are to be subjected to unnecessary industrial action by the RMT. We plan to run our full service on all four days and will do everything we can to minimise any effect this strike action may have. We do however advise you to check before you travel. Please note that, due to the Bank Holiday weekend, we will be operating a different timetable. On Friday 30 March and Monday 02 April, we will be operating a Saturday timetable."
The RMT say that they have an overwhelming mandate for the action with 73% of members voting in favour on a turnout of 63%
RMT General Secretary Mick Cash said, "RMT has been forced under the latest wave of Tory anti-union laws to re-ballot in the rail safety disputes on both Greater Anglia and South Western Railway under the six month rule and once again our members at both companies have stood united and solid and have renewed the mandate to carry on the fight to put public safety before private profit.
"Both Greater Anglia and South Western Railway have opted to play for time over the past six months rather than acting responsibly and getting round the table with the union to work out a solution to these separate disputes that puts safety and the guard guarantee centre stage. That is the package we have successfully negotiated in both Wales and Scotland and it defies belief that we are being denied the same positive outcome on these English franchises."
Services on South Western Railway, which serves stations such as Brentford, Chiswick, Putney and Wandsworth Town were not severely disrupted last time the RMT took similar action but the rail company are advising passengers to check their train is running before setting out.

Live Updates on South Western Rail Services
March 26, 2018