Four days of disruption planned in dispute over guards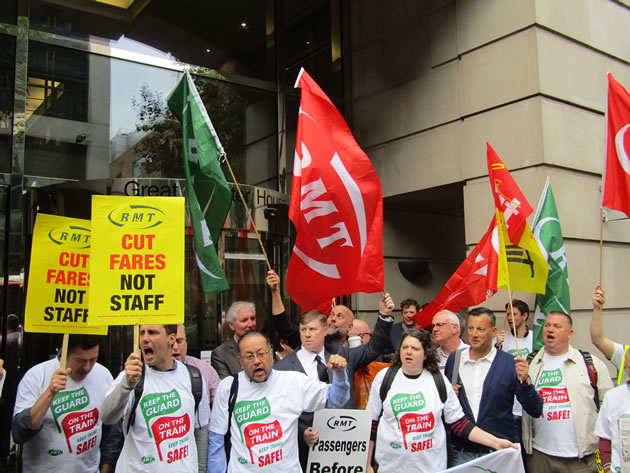 RMT members demonstrate outside the Department of Transport
The RMT have announced the dates of their next round of industrial action in the dispute with South Western Railway over guards on the trains.
All guards who are members of the union have been instructed to to take industrial action by 'refusing to work in accordance with key sections of the Guards Restructuring Agreement' from Friday 16 February until Monday 19 February.
Train driver members are not to undertake any rest day working during this time.
RMT General Secretary Mick Cash said, "It is frankly disgraceful that South Western Railway point-blank refuse to engage with the union in meaningful talks over their plans to run trains without a safety-critical guard on board across this franchise.
"It is the intransigent attitude of the company which has forced us to put on this latest phase of industrial action in an effort to force them to see sense and to drive them back to the negotiating table for genuine and meaningful talks.
"We know that this action will have a serious impact on services and the responsibility for the disruption caused will be wholly down to South Western Railway and their pig-headed attitude. It is time for the company to get out of the bunker and start talking."
The latest disruption follows three days of industrial action in January. The union claim that despite talks to resolve the dispute the 'intransigence' of management has made further action necessary.
South Western Railway claimed they managed to run 70% of scheduled services during previous strike days and problems were further mitigated by using longer trains. They will be hoping that with the train drivers only partially taking part the disruption will be less severe than for previous strikes. They say that the planned action by RMT is industrial action short of a strike. We asked the RMT for clarification on this point and have yet to received a response.
The dispute is around a new fleet of suburban trains that the company plan to introduce next year. They say that they are guaranteeing a guard should be rostered on all trains but that they want to guarantee that all passengers can still travel should a guard not be available at short notice.
A Department for Transport spokesman said at the time of the previous strike, "This is a dispute between a private company and the RMT.
"However, the transport secretary recognises the disruption caused to passengers and has met with union leaders on several occasions, including as recently as December, to help bring an end to the strikes.
"Nobody is losing their job as a result of driver-controlled operation trains, employees have been guaranteed jobs and salaries for several years."

Live Updates on South Western Rail Services
February 6, 2018