Roehampton's history revealed through new website
The historic campus at the University of Roehampton is being used by students as the basis for a pioneering project including researching the lives of high society Georgian and Victorian figures, and on Tuesday they invited local residents to share their discoveries.
The project uses existing buildings, combined with archive material, art works, landscape features and the services of the University's expert heritage advisor Gilly King to reveal a unique picture of the area's past. The project, funded by the Higher Education Academy, is believed to be the first of its kind at a University.
As part of the project, new web pages will act as a significant resource for local history enthusiasts and schools. Details about people and buildings on the website include:
• Henrietta, Countess Bessborough, a Georgian socialite whose gambling debts forced the second Earl of Bessborough to sell his classical collection, and who lived at Parkstead House.
• Lady Jane Law, the four-times married aristocrat, and one time resident of Elm Grove (now demolished), whose first relationship broke down amid scandal and social exile, and who lived out her life as the wife of a Beduin sheikh.
• A tunnel from the University grounds under Roehampton Lane, with an entrance built of volcanic stone. It was constructed for landowner Benjamin Goldsmid in the 18th century to cross between his two properties avoiding highwaymen who plagued the area. Goldsmid hosted luxurious parties for Prime Ministers like William Pitt, and heroes like Lord Nelson.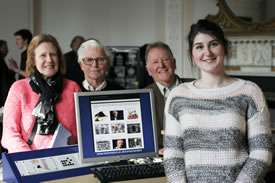 The launch of the project's results was attended by a number of Roehampton residents, including John Horrocks, Vice-Chair of the Roehampton Forum organisation. Mr Horrocks said: "This project is really interesting indeed, and now I want to learn more. This is really just the beginning of something very big and I'm looking forward to coming back in to the University and learning more about the Roehampton area."
Dr Sonya Nevin, from the University said:
"People living in Roehampton have hundreds of years of social history on their doorsteps. Our students have enjoyed bringing order to it to create a website which residents can use to find out what happened right here over the last four centuries. I'd challenge anyone interested in local history to visit the website and find out something new and exciting about where they live."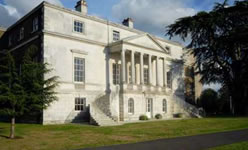 The site also records local life from the 18th century onwards, including the influence of the arts and crafts movement, and religious communities, such as the Jesuits who owned Parkstead House, pictured right, during the 19th and 20th centuries when it was named Manresa House. Information about the pioneering work which the four colleges that now constitute the University carried out to educate young women in the 19th century is also included.

March 24, 2015