To challenge stereotypes with help from media students at Roehampton Uni
Students from Ursuline High School have been making their own films as part of the Wimbledon BookFest Young Film Makers Programme, with help from media students at the University of Roehampton.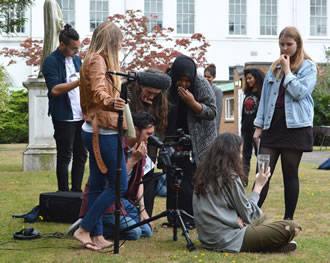 The eight strong cast and crew from Ursuline, who are all year 12 pupils, spent a morning making their film at the University on Thursday 16 July. On a previous visit they learnt from senior lecturer William Brown about the theory of film making, and from production company Chocolate Films about how to use cameras and other technical equipment. During Thursday's visit they worked with degree students to act out roles and create the film, after touring the 54-acre campus to scout locations for scenes.
As well as Ursuline, pupils from St Mark's Academy and Rutlish School also took part in the filming project.
All three teams were set the challenge of making a film on the theme of Through the Looking Glass by the BookFest's organisers. Ursuline's film was titled Shattered Sight and was based on changing and challenging stereotypes of different types of people.
The film featured a pupil acting the role of a thug, who was actually an undercover police officer, as well as a homeless man, a businesswoman and a biker, who all had unexpected lives.
The team's director, pupil Laura Holliday, said: "We've found out how much work goes into making even a short film and it's really made us appreciate the time it takes, and how much goes into making a feature film. It's been a great experience."
Laura's fellow team members were:
• Severine Howell-Meri, costume designer and actress
• Jake Kenny-Byrne, actor
• Ella Roberts, actress
• Claudia Joll, assistant director
• Sophia Sa, actress
• Zahraa Choudhury, prop master
• Nasyah Bandoh, producer
The school's Director of Extended Learning, LisaThefaut, said: "All our pupils are studying either drama, humanities or English, so coming up to the University and creating a film has been an excellent experience for them; brilliant enrichment for their CVs and personal statements. They have created, written, organised and recorded their film as a work experience project, and spending time on the Roehampton campus with students has given them a good idea about university life as well. We are really grateful to Roehampton and the Bookfest for making this happen."
All three schools' films will be shown to audiences during Wimbledon BookFest in October, they will also be available to watch online closer to the time.

July 17, 2015