Night time work will mean road is shut from Chalkers Corner for much of May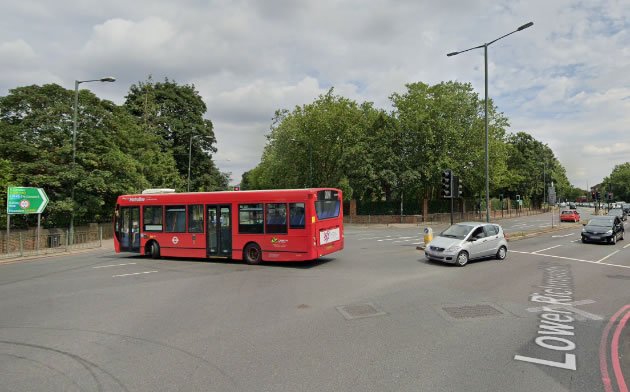 Chalkers Corner. Picture: Google Streetview
Transport for London (TfL) have announced that the A316 is to be closed at night for maintenance work during the month of May.
The A316 Chertsey Road and Lower Richmond Road will be shut in sections between 5-22 May. The works will include repairs to the road, gully cleaning, maintenance of the lighting, barrier repairs, road stud replacement and other works identified by safety inspections. Grass verges and roadside vegetation will also be cut.
The closures will be from 10pm to 5am on Monday to Friday beginning on the 5 – 8 May on the westbound carriageway between Chalkers Corner and the London Road Roundabout.
The following three nights (11-14 May) the work will take place between London Road roundabout and Hospital Bridge Road roundabout on the westbound carriageway. Then for the next 5 nights the eastbound carriageway on the same stretch of road will be worked on.
The project is scheduled to be completed by 22 May with three nights of work between the London Road Roundabout and Chalkers Corner on the eastbound carriageway.
TfL say some of this work may be noisy so they will try to mitigate the impacts of noise and vibration, where possible. Signed diversion routes will be in place during the works.
No parking will be possible on the Lower Richmond Road, Twickenham Road, The Avenue and Chertsey Road during the works.

This project has been identified as safety critical and TfL say it is authorised to continue during the Government's current social distancing measures. The staff on site are therefore classified as critical transport workers involved in safety activities in support of the national Covid-19 effort.

If you have any further questions or concerns, contact Transport for London's customer services team on 0343 222 1234

April 29, 2020