Putney Family Win 'Britain's Got Talent' Tickets
---
Seeing the semi-final and meeting Amanda Holden and the judges thanks to the Polka Theatre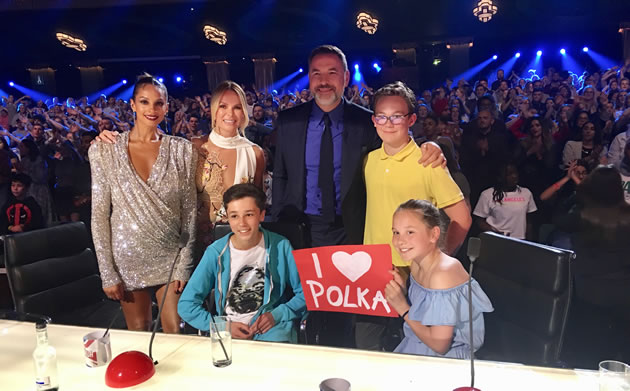 Alesha Dixon, Amanda Holden, Joshua, David Walliams, Sam and Jessica

The Randles family from Putney were the lucky winners of Britain's Got Talent semi-final tickets donated by Polka Patron Amanda Holden to raise money for Polka's redevelopment campaign.

Mum Lisa, daughter Jessica, son Sam and his friend Joshua went to the semi-final show on 29 May at the Apollo in Hammersmith. Amanda had generously reserved them front row seats and arranged for the family to meet Alesha Dixon and David Walliams in the break.

Winning mum Lisa Randles said: "We are a Putney-based family of 5 who have enjoyed many shows at Polka Theatre over the last 10 years including Grandad, Me & Teddy in the Adventure Theatre, and we've also been to see Peter Pan, Beauty & the Beast, Flat Stanley, Big Red Bath, Operation Magic Carpet, Double Act (twice!) and Superheroes. We can't wait to see the new building after the renovation work is completed.

"We were so excited to have won the Britain's Got Talent semi-final tickets! My daughter is a superfan of BGT. The effort that Amanda Holden has put in to raise money for the renovation work is fantastic, and her connection to Polka really demonstrates the high standard of the shows put on by the theatre.

"On the night of BGT we had front row seats, and Amanda's team went out of their way to make us feel like VIPs, they were so lovely! I had no idea how much fun it would be considering all of the production involved in putting on a live show, but it was incredible! Amanda and all of the judges were warm and friendly, and Jessica even got to sit in Simon Cowell's chair! We can't thank Polka and Amanda Holden enough for a really special evening. We can't wait to see who wins BGT 2019"



Joshua & Sam outside the Apollo, Hammersmith

Son Sam (who's studying Spanish in Year 7) said it was, "Muy fantistico!" and 12 year old Jessica said: "I loved every performance and especially the breath taking view from the front row! Thank you Amanda and Polka!"

Polka Theatre is currently redeveloping the building and will re-open in 2020. Amanda Holden said: "As a Patron it is a real pleasure to support Polka Theatre with its fundraising campaign and give the Randles family a special experience of BGT as competition winners. If you would also like to donate to Polka's redevelopment campaign please go to www.polkatheatre.com"


May 31, 2019