As number of grass fires rise to 29 a day
London firefighters have attended an average of 29 grass fires a day this July (1-21). The total number of grass fires for that period is 613 - seven times higher than last year. The busiest day was last Monday, (15 July) with 52 grass fires attended.
Firefighters have attended nearly 2,000 grass fires so far this year and this number is expected to increase today with temperatures reaching 33C. This year has not reached the heights of 2006, when there were over 2,000 grass fires in London in July alone.
Despite the high number of grass fires in London, the Brigade was more than able to provide fire cover right across the capital at all times and carry out its normal day to day fire prevention work.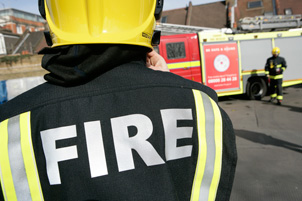 London Fire Brigade's Head of Operations, Prevention and Response, Dave Brown said:
"Grass fires can cause a great deal of damage to open spaces and wildlife, and can be avoided by making sure that cigarettes and barbecues are extinguished properly, and that glass bottles are disposed of carefully."
A large number of grass fires are either started deliberately or through careless behaviour. Many are caused by discarded cigarettes and matches or glass bottles which can concentrate the sun's rays on to parched grass and shrubbery. Cigarettes being thrown from a car window can also ignite dry grass verges.
People can reduce the risk of grass fires and make their summer safer for both themselves and their families by following a few simple rules:
• Don't leave camp fires or barbecues unattended and extinguish them properly after you have finished using them.
• Clear away bottles, glasses and any broken glass to avoid them magnifying the sun and starting a fire.
• Dispose of cigarettes and matches properly and make sure they are completely extinguished.
• Explain to children the dangers of playing with and lighting fires.
If you see a fire don't attempt to put it out yourself as grass fires can travel very quickly and change direction without warning. Call the fire brigade and if you can, stay around so that you can direct firefighters to the scene - but only if it is safe to do so.

July 22, 2013