As 1 metre ruling allows for 'real' Summer Exhibition 2020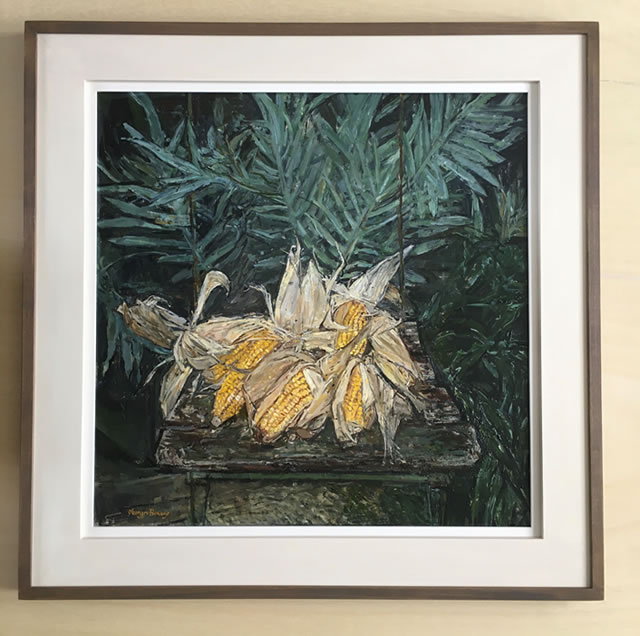 Corncobs - oil on board - 24" x 24" Olwyn Bowey RA, RBA
The Russell Gallery are very pleased that they can once more welcome residents and visitors through the gallery doors on the Lower Richmond Road following the recent reduction in the social distancing rule to 1 metre - just in time for their annual Summer Exhibition.
Co-owner Sarah Russell-Walling has welcomed the news, telling PutneySW15: "Opening up with so many different artists in our Summer show has made it possible to bring back a semblance of normality and for people to (whilst observing social distancing) see paintings again".
The gallery runs ten solo exhibition a year, plus a summer and winter Mixed Exhibition. These exhibition show about 70 new and young artists, over 2 months.
The gallery is open Tuesday to Friday 10 am to 4 pm and Saturday 10 am to 5:30 pm

The Mixed Summer Exhibition closes 5th September
Susan-Jayne Hocking
30"x24"


Susan-Jayne Hocking
24"x24"



Gerald Engelvin
39"x39"


Gerald Engelvin
36"x28"



Mary Mabbutt
36"x36"

Cathryn Kuhfeld
486"x21"

Janet Todd
30"x32"

Claire Bowen
31"x39"

Claire Owen
31"x39"

Christine Pybus
30"x39"


Christine Pybus
28"x36"

Gabe Lewis
27"x17"

Gabe Lewis
15"x13"

Julian Bailey
18"x20"

David Eustace
18"x24"

Michael Sofroniou
20"x24"

Michael Sofroniou
16"x24"

Naomi Munro
29"x23"

Naomi Munro
20"x20"

Jacqueline Williams
20 "x16"

Chris Polunin
16"x20"

Chris Polunin
12"x16"

Paula Whitbread
16"x16"

Paula Whitbread
16 "x16"

Rod Pearce
22"x16"

Rod Pearce
10"x8"

Peter Brown
8"x20"

Peter Brown
8"x20"

Dawn Jordan
12"x15"

Dawn Jordan
12"x15

Caroline Atkinson
15"x11"

Lotta Teale
10"x14"

Lotta Teale
8"x8"


Haidee-Jo Summers
20"x18"

Haidee-Jo Summers
10"x8"


Lucy Powell
19"x15"

Lucy Powell
10"x8"

Anne-Lise Firth
16"x20"

Anne-Lise Firth
16"x20"

Mark McLaughlin
14"x18"

Mark McLaughlin
12"x12"

Alison McWhirter
16"x16"

Alison McWhirter
16"x16"

Sophie M Cook
18"x16"

Sophie M Cook
18"x14"

Alexandra Steele
12"x12"

Alexandra Steele
12"x12"

Georgina Potter
12"x12"

Georgina Potter
12"x12"

Jane Corsellis
8"x12"

Andy Newman
9"x16"

Andy Newman
7"x18"

Katrina Wilkie
12"x12"

Saad Haider
10"x14"

Saad Haider
12"x10"

Jacqueline Taber
8"x10"

Jacqueline Taber
8"x10"

Colette Clegg
12"x12"

Colette Clegg
12"x12"

Peter Kuhfeld
11"x13"

Peter Kuhfeld
13"x9"

Ruth Stage
10"x14"

Ruth Stage
10"x14"

Robert E Wells
13"x10"

Sarah Manolescue
10"x12"

Sarah Manolescue
9 "x10"

Ben Eden
10"x10"

Diane Urwin
6"x8"

Caroline Lees
5"x5"

Caroline Lees
5"x5"

Patrick Cullen
13"x18"

Landscape paintings-Tushar Sabale
12"x10" each

Advertisement
June 30, 2020