A Charles Rake Show 4th - 20th June 2020
---
A virtual exhibition of suburban and rural scenes at The Russell Gallery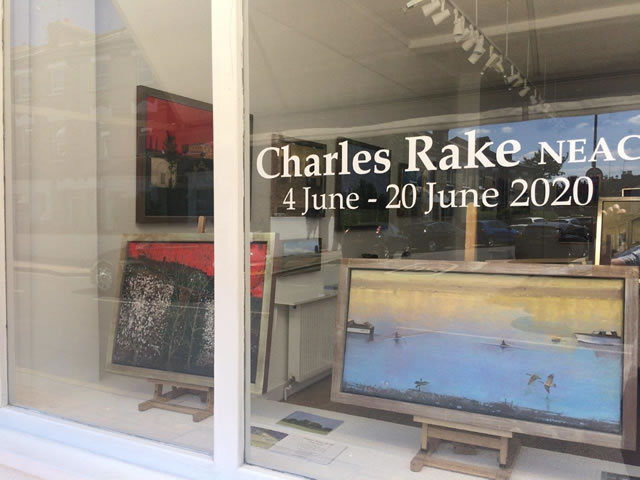 The Russell Gallery has been established in Putney for 17 years. We chose to have our gallery there for many reasons one being our family has lived there for several generations.

We are one of the few galleries left that offer one person shows to artists. We plan the Solo shows two years in advance and work on this basis. We have about 10 Solo shows and two mixed shows each year.
The Mixed Summer and Winter shows give young and new artists an opportunity to exhibit with us alongside our established ones. We have an eclectic, rotating show that is often compared to the Royal Academy Summer show. Prices start at £350.

This month until the 20th June we are exhibiting - Charles Rake, an established artist - all his paintings are oil on linen or oil on board. He has painted a really interesting mixture of suburban scenes and English rural scenes.

Charles has exhibited in the Royal Academy Summer show on many times and the Royal Society of British Artists. He was elected a Member of the New English Arts Club which was founded in 1886 - English artists who paint plein air.
His work is in the Collections of Merchant Bank of America, the University of Surrey Collection and the Royal Highnesses the King and Queen of Spain.

All the paintings are for sale and images of paintings in their frames can be emailed. Or put in the window of the gallery for viewing.

Please email russgallery@aol.com or phone 0208 780 5228 leave a message and we will get back to you.

The Charles Rake Exhibition closes 20th June
Mid summer, sheep grazing
28"x38"


Swimmer
24"x32"


Pale sun, autumn
28"x38"



Night in a small city
24"x32"


The house on the hill
242"x32"


Sea flowers
36"x36"

The white gate
24"x30"

Bright day
20"x26"

Waiting passenger
20"x28"

The Continental Cafe
20"x24"


The waiting room
20"x28"

Afternoon hours
24"x20"

Summer walk
18"x24"

Social media
20"x24"

Red sky at night
18"x24"

December
20"x28"

Hill town, moon, magnolia
20"x28"

Tuscan house
18"x24"

Sculling, The Thames
32"x16"

Three for a pound
20"x24"

Quiet moment
13"x10"

The white magnolia
16"x20"

Late March
14"x19"

Village fair
13"x18"

A spring day
9"x19"

The cheese maker
10"x13"

Red sun, black cat
8"x10"
Advertisement
June 10, 2020