Published at the outbreak of Coronavirus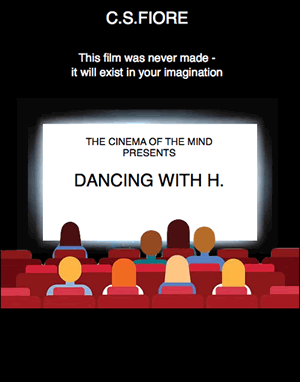 Book cover-graphic design by Rory Hunter
C.S.Fiore is a private tutor in Foreign Languages with a passion for writing since an early age. Although she started reading and writing at the age of six or eight due to Post-war economic adjustments in Europe, at school she learnt Latin and Greek Mythology. Her favourite reading is history books starting from the histories by Herodotus, to Polybius to Henry Troyat. She is also an avid reader of world literature in the original language. A polyglot herself, she speaks, reads and writes in French, Spanish, Italian and English. She can understand, if the need arises, Portuguese, German and Russian.
In the mid-80's, she followed a correspondence course with the WRITING SCHOOL based in N22 under the tutorship of John O'Toole. That followed a 2-years creative writing course by Sheila Sidebottom in a Hall in Acton W3 in the mid-90's. She then entered a competition by the DAILY TELEGRAPH for a 50-words short story titled 'NOTICE' resulting in a place in the 'Murder and other Stunts' section published in their MINI SAGAS Book of 1999.
She then concentrated on her work and family life, raising two wonderful children: Alexander Sacha and Laura-Luisa.
In April 2006, she found time to follow a course in 'Introduction to writing and directing for drama' at the CITY OF WESTMINSTER ADULT EDUCATION. In September 2009, she followed a course in 'Developing your writing' at the CITY LIT under the tutorship of Christine Dunhill. Intending to fulfil her passion for film- making and cinema in general, she took a two-year course in stages 1&2 screen-writing course at the CITY LIT from 4/2011 to 10/2014. However, she found script-writing too restrictive and found ways to combine her two passions, creative writing and writing for the screen, in a book she calls a genetic hybrid.
Although DANCING WITH H. is a story set in WW2, it concerns all bellicose periods in history. On how women go through the difficult war times, how they cope with loneliness, raising a family or living without men, separation, hunger and fear. For men, how they view a warmongering climate, conscriptions, how they cope with military life, obeying orders, dealing with their conscience, ultimately, question and justify wars, above all, face death. The main protagonist is surrounded by other characters who move all around the European theatre of war.
DANCING WITH H. is intended to be read like a film as its format is part descriptive together with script- write dialogues. It can be read in the company of other fellow readers or family members, each acting out a role within the film.
She is also interested in International political debates, art history journalism, nature documentaries and watching tennis events.
The book, conceived 20 years ago, took six years to write, needing extensive and accurate research of the period. It was first published at the outbreak of Covid-19, 2020.
C. S. Fiore is currently writing a second book.
DANCING WITH H. can be obtained from https://blissetts.com/book-shop/dancing-with-h-by-csfiore
https://www.amazon.co.uk/s?me=A2S2UI3WLPKWF9&marketplaceID=A1F83G8C2ARO7P
REVIEWS FROM FIRST READERS
C. S. Fiore has put a huge amount of detailed research into this book, interweaving histories of the Channel Islands and Austria during WW2. This inventive cinematic treatment is one that brings the chapter of history to the reader with freshness and immediacy.
Susan Stevens – Journalist
An exciting and sensitive 'scripted-prose' narrative centred around the events of WW II. We follow the lives and loves of people as they navigate their way through the moral complexities and life-threatening situations of the period. The punishing and cruel events have been thoroughly researched, contrasting sharply with the beautiful, lyrical descriptions of landscapes thus giving the work a carefully rounded aspect.
Perin Hunter – Author
I read C. S. Fiore 's Dancing with H. and enjoyed it immensely. I found the characters extremely compelling, some likeable others not so likeable, and the story was intensely moving and heartfelt. I loved the real facts that were peppered throughout the story and mingled with the fiction. I would recommend this book(play) to anyone who loves to read fact and fiction with the never-ending plight of love and love lost
Wendy Gallagher – Director – Invest Connections Ltd
With meticulous research, we travel through some European theatres of war with vivid insight and through characters with varied and very human issues.
Diana Lyness - Head-teacher in Independent School
I have recently had the pleasure of reading 'Dancing with H.' It has a good storyline and raises some quite important ethical/moral issues…these issues are raised to this day sadly! The book, in fact, was well researched and the author set the scenes well, both on the Channel Islands and in Austria. Well worth a read and very interesting.
Sally Pollard – volunteer charity worker and avid bibliophile.
Dancing with H. presents the reader with a cast of characters struggling to survive….to examine their consciences …to justify their chosen actions and accept their fates. Intertwined…in the lives of C. S. Fiore's cast is the background to the political, economic, social and military history besieging them…this story is as much a historical novel….as a love story….sets each scene with vivid, expressive and stimulating cinematic narrative.
Christine Kell – English Language Teacher

Advertisement
January 18, 2021