Woman killed after being struck by train
Mainline trains from Wimbledon were halted after a woman was killed when she was struck by a train on Wednesday July 6.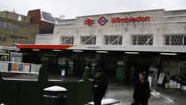 The incident happened at the end of the morning rush-hour and no trains called at the station before 1pm.
The subsequent delays caused congestion at London Waterloo and South West Trains cancelled all Waterloo to Dorking trains, which run through Wimbledon.
The extra trains running for Hampton Court flower show were also cancelled and delays of up to 40 minutes were reported all day on other South West Train services.
It is thought the woman who died was in her 60s and police are working on establishing her identity.
For the latest travel news from Wimbledon station, see our Local Travel Page.
July 6, 2011