South West Train services were affected
A 45-year-old man has died after being hit by a train at Wimbledon station on Monday July 18, causing major delays to train services.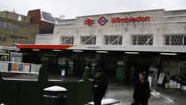 The man was struck by the Poole to Waterloo service as it went through the station at 5.21pm.
South West Train services suffered long delays until the end of the day.
A British Transport Police spokesperson said: "The incident, which was reported at 5.21pm, was also attended by paramedics from London Ambulance Service, but the man, believed to be 45-years-old, was pronounced dead at the scene.
"The incident is currently being treated as non-suspicious and a file will be prepared for the coroner."
The train involved was the 2.50pm Poole to Waterloo service. The spokesperson said the line was handed back to Network Rail at 6.35pm.
Earlier this month the station was closed when 65-year-old Jean Gault, from Wimbledon, died after being hit by a train near the end of the morning rush-hour.
For the latest travel news from Wimbledon station, see our Local Travel Page.
July 19, 2011