Local events on November 11
Remembrance Day services will be held in Merton on Wednesday 11 November.

Mayor of Merton, Councillor David Chung, Deputy Mayor Councillor Pauline Cowper and Leaders of all political parties will be attending.

On Wednesday 11 November ceremonies will be held at the following locations:
Venue: Civic Centre, Morden
Time: 10.50am
Attended by: The Deputy Mayor, civic representatives and members of the Morden branch of the Royal British Legion.
Venue: Mitcham War Memorial
Time: 10.50am
Attended by: The Mayor of Merton, civic representatives, schools and members of the Mitcham branch of the Royal British Legion.
For more information on the Remembrance events, go to: merton.gov.uk/remembrance.
On Sunday 8 November, 50 Volunteer Police Cadets (VPC) from Merton's 3 Units took part in Mitcham's Remembrance Service, alongside Royal British Legion veterans, civic guests and other community members.
The Cadets, all local young people aged 10 - 18, marched from the British Legion Hall in St Marks Road through Mitcham Town Centre to the Mitcham War Memorial in Cricket Green.
The Remembrance Service was conducted by the Reverend Nigel Stone, Vicar of St Mark's Mitcham. Wreathes were laid by Siobhan McDonagh, MP, local councillors and Merton Council representatives.
Other wreathes were laid by the Chairman of the Mitcham Branch of the Royal British Legion Mr Allan Barley (who also represented the RAF), Merton Borough Superintendent Steve Wallace and other services. The Volunteer Police Cadet wreath was laid by 15 year old Cadet Drilon Morina.
Superintendent Wallace said: "Our Cadets are our future, I am very proud that on such a poignant occasion as today's Service, 50 local young people have worked so hard to represent their police, support their community and conducted themselves so well."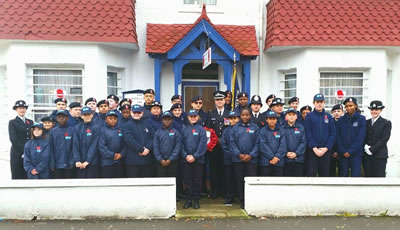 Cadet Coordinator PC Tim Mann said: "Merton's West and East units including our Juniors have put in many hours drill and rehearsal to prepare for today, it's a real privilege for us to take part in the Remembrance Service once again with our Royal British Legion colleagues and other friends."
"I would like to thank our Cadets & their families, our adult leaders and colleagues, and our local schools for supporting us, especially St Marks Academy and their schools PC Marco Cetara, who also leads the East Cadets."
To find out more about the Volunteer Police Cadets (pictured above on Sunday), contact PC Tim Mann at Wimbledon Police Station (email vw-mertoncadets@met.police.uk), follow @Mertonvpc on Twitter or visit www.met.police.uk/cadets.

November 10, 2015