To increase awareness of carbon monoxide poisoning
Avril and Gordon Samuel are endeavouring to raise awareness of the dangers of carbon monoxide following the tragic death of their daughter Katie Haines in 2010.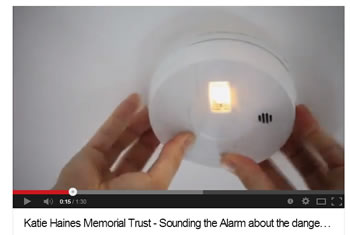 The Katie Haines Memorial Trust to raise awareness of the dangers of carbon monoxide poisoning and have made a film https://www.youtube.com/watch?v=T9_auaoxHzY to raise awareness. The trust says, with the onset of the cold weather, now is the time for gas appliances to be checked and chimneys swept.
Mr and Mrs Samuel, from Alwyne Road, Wimbledon, helped set up the Katie Haines Memorial Trust to work with organisations who can help educate and raise awareness of the risk of carbon monoxide poisoning.
It is estimated that up to 50 people die and over 4,000 people are diagnosed with carbon monoxide poisioning in the UK each year, although the figure could be much higher. Some of the symptoms of mild carbon monoxide poisoning are headaches, dizziness, sore throat, dry cough and nausea, all of which could easily be confused with viral cold and flu infections, food poisoning or general tiredness. It is known as the "Silent Killer".
Katie died at her home in Wokingham just two months after her wedding to Richard Haines.
Avril Samuel told WimbledonSW19.com that since October the trust has heard of four incidents where people have been saved following installing audible CO monitors in their homes. An example from a recent email received by the trust explained:

"Stuart and I returned home at about 6pm to hear our carbon monoxide alarm going off. We called the National Grid helpline, who advised that we go into our flat to check all of our appliances and turn off our gas meter, neither of us know how to do this and I refused to enter the property. We spoke to our downstairs neighbour who joined us in the front garden to wait for the technician to arrive.
"He arrived about 30 minutes later and initially checked our boiler which was fine and then checked our downstairs neighbour's flat. They discovered that his boiler was producing CO, this was then disconnected and both properties aired to make them safe. We later discovered that his boiler was over 20 years old and he couldn't remember the last time it was serviced."

The email ended: "I just wanted to say thank you for all of your work in promoting this causes as this is the reason we have a CO alarm in our flat. It really made me realise that even though we have a new boiler and have alarms, it can come thorough from other properties."

November 21, 2013