Coming Soon: Battersea Beer Festival
Around 180 real ales, as well as ciders and perries, will be on offer to thousands of drinkers expected at the 22nd Battersea Beer Festival.
The annual event, organised by members of the South West London branch of the Campaign for Real Ale (CAMRA), takes place from February 8-10 in the Battersea Arts Centre's Grand Hall in Lavender Hill.
It's just a few minutes walk from Clapham Junction station, so is easy to reach from the Wimbledon area.
This year's event marks 500 years of brewing in South West London. In 1512, Henry VIII's warships are recorded as having made "provision of beer" at Wandsworth. This was uncovered by historian and author Helen Osborn.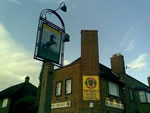 The South West London CAMRA pub of the year will be announced from the stage festival on Thursday. There are three Wimbledon pubs in the final eight - the Sultan (left) in Norman Road, South Wimbledon, the Hand in Hand on Wimbledon Common and the Trafalgar in High Path, South Wimbledon. For more, click here.
For more information on the festival, visit the website at: www.batterseabeerfestival.org.uk
What's your top local pub? Tell us all about it on the forum.
February 1, 2012