Coming Soon: Battersea Beer Festival
More than 180 real ales, as well as imported beers, ciders, perries and English wines, will be on offer to thousands of drinkers expected at the 23rd Battersea Beer Festival.
The annual event, organised by members of the South West London branch of the Campaign for Real Ale (CAMRA), takes place from Wednesday to Friday (February 6-8) in the Battersea Arts Centre's Grand Hall in Lavender Hill.
It's just a few minutes walk from Clapham Junction station, so is easy to reach from the Wimbledon area. It opens from noon to 11pm each day, with last orders at 10.40pm.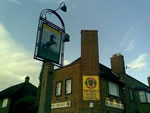 The South West London CAMRA pub of the year will be announced from the stage festival on Thursday afternoon.
There are two Wimbledon pubs in the final seven - the Sultan (pictured) in Norman Road, South Wimbledon, and the Hand in Hand on Wimbledon Common. The Trafalgar, in High Path, South Wimbledon, as current holder, is not eligible to enter this year.
The event aims to feature the best of British real ale, mainly from small and medium producers. It will include four beers from the newly opened Belleville Brewery, near Wandsworth Common Station, as well as ale from By The Horns, nearer Wimbledon, in Summerstown.
There is an online list of beers and ciders planned for the event, including 100 on the foreign/strong beer bar and 140 on the main bar.
For more information on the festival, visit the website at: www.batterseabeerfestival.org.uk
What's your top local pub? Tell us all about it on the forum.
February 2, 2013